Christmas wouldn't be Christmas without a more-ish mince pie to munch on. But with so much choice on offer in the nation's supermarkets, which mince pie is right for you?
Do you prefer a buttery crust? A boozy filling? A pastry parcel packed with spicy currants and raisins?
We've toured Britain's stores to taste test as many mince pies as our tastebuds (and bellies) would allow. Here's our festive round-up (burp!).
CHRISTMAS BY SAINSBURY'S DEEP MINCE PIES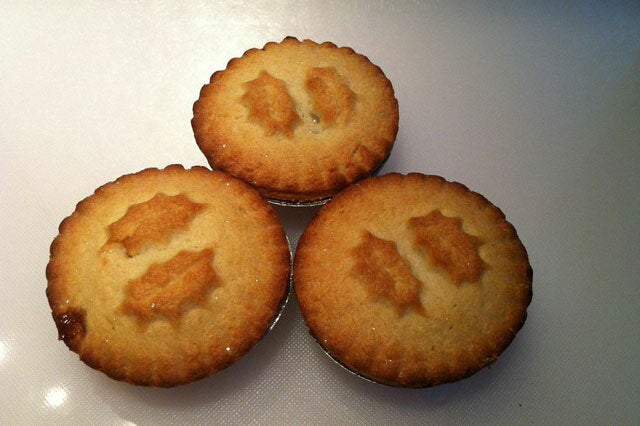 What it says on the box: Butter enriched shortcrust pastry cases with a mincemeat filling.
Verdict: Decorated with a couple of pastry holly leaves, these look nice and festive, though a touch burnt at the edges. Has the least amount of sugar sprinkled on top (which I prefer) but the pastry is quite heavy and claggy. A fanstastic amount of filling, though: crammed to the top with juicy, sweet and spicy fruit. Great with a cup of tea.
Pie rating (out of five): 4
TESCO MERRY CHRISTMAS 6 ICED TOP MINCE PIES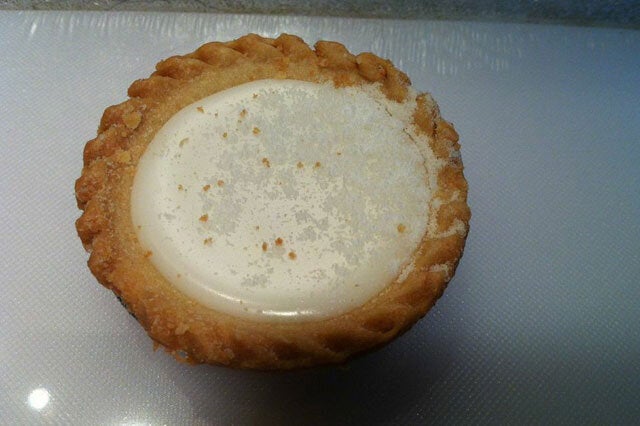 What it says on the box: Buttery shortcrust pastry filled with fruity mincemeat and topped with fondant icing.
Verdict: With their pure white iced tops, these look like they've just come out of the snow. Lovely to look at. Unfortunately, they're sweeter than a Haribo with syrup on top and it was impossible to take more than a bite without conjuring up visions of a trip to the dentist's.
SNOWY LODGE AT LIDL 12 MINCE PIES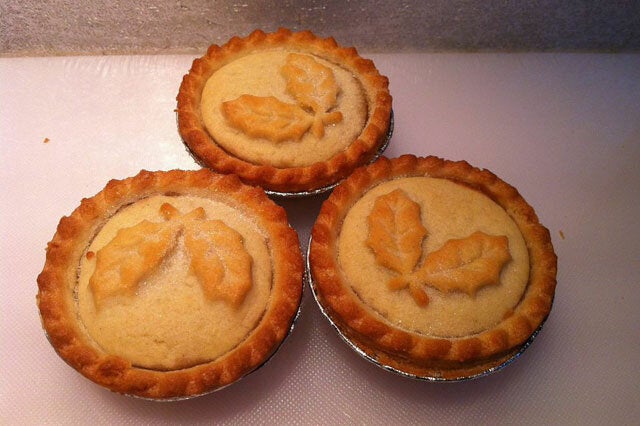 What it says on the box: Crumbly shortcrust pastry cases, generously filled with a lightly spiced mincemeat, finished with a sprinkling of sugar.
Verdict: A fine dinky little pie, adorned with a couple of prominent pastry holly leaves. Sadly, looks aren't everything and these failed at first bite. The pastry was soft and collapsible and the filling very jammy, with barely a raisin to chew on. But for 12p per pie, what more can you expect?
ALDI SPECIALLY SELECTED 6 CRUMBLY ALL BUTTER MINCE PIES WITH BRANDY LACED MINCEMEAT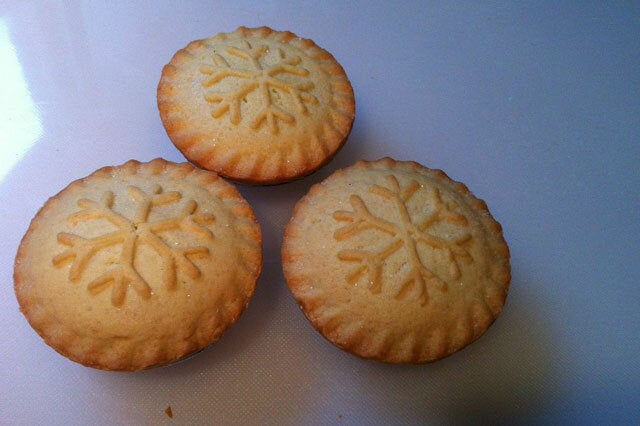 What it says on the box: All butter pastry filled with a luxurious festive mincemeat and sprinkled with crunchy sugar.
Verdict: These do exactly what they say on the box: buttery and brandy-ish, with a crunchy topping. Generously filled, gloriously mouth-filling. Yum!
CHRISTMAS FROM ICELAND 6 DEEP FILL MINCE PIES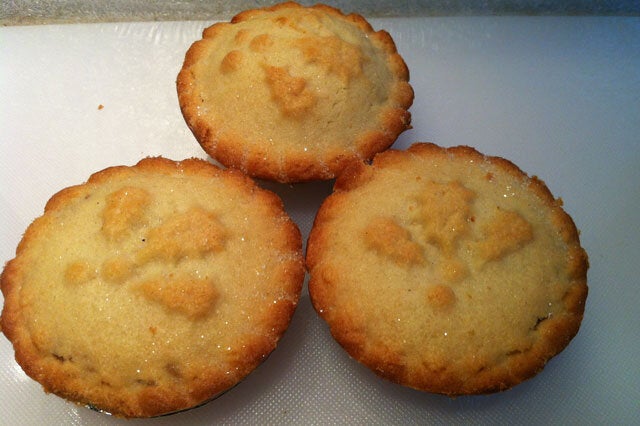 What it says on the box: Deep shortcrust pastry cases filled with mincemeat, topped with shortcrust pastry lid and a light sprinkling of sugar.
Verdict: By far the least aesthetically pleasing, but these no frills pies deliver on value, big time. The pastry is crisp and almost biscuity, with a filling that brims with vine fruit that's packed with festive flavour. Six for a QUID! It's as if Christmas has come early!
ASDA EXTRA SPECIAL, CREATED WITH LEITHS SCHOOL OF FOOD AND WINE 6 LUXURY MINCE PIES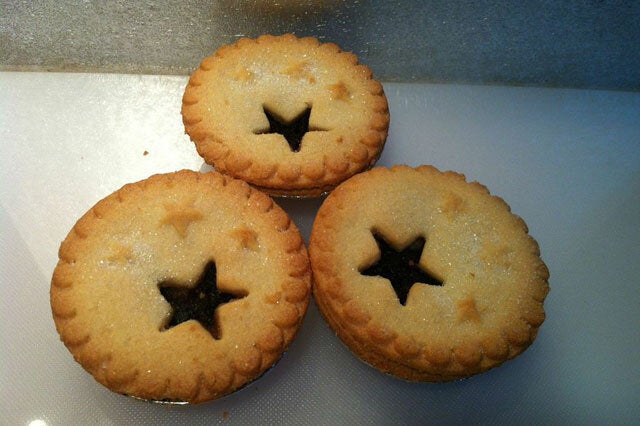 What it says on the box: Crisp, buttery pastry crammed with spiced vine fruit infused with sweet port and brandy.
Verdict: The loveliest looking of the pies, with a star-shaped window giving you a peek into the fruity interior. This is the most grown-up selection from our taste test, with the port and brandy packing a prominent (and rather intoxicating) punch. The pastry's a bit on the crumbly side, but the filling is magnificent.
MORRISONS SIGNATURE ALL BUTTER DEEP FILLED MINCE PIES, 6 PACK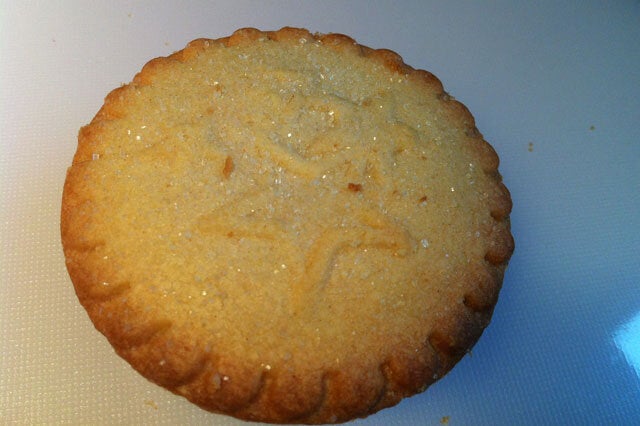 What it says on the box: Golden, crumbly all butter pastry filled with plump fruit infused with port and brandy.
Verdict: A nice sparkly pie, festively decorated with stars. Satisfyingly heavy in the hand, a bite into the crisp crust revealed a rather vacuous interior. The filling was chunky, sweet and spicy, but was only half full and thus left me feeling a bit short changed.
MARKS & SPENCER 6 LATTICE MINCE PIES, BUTTER RICH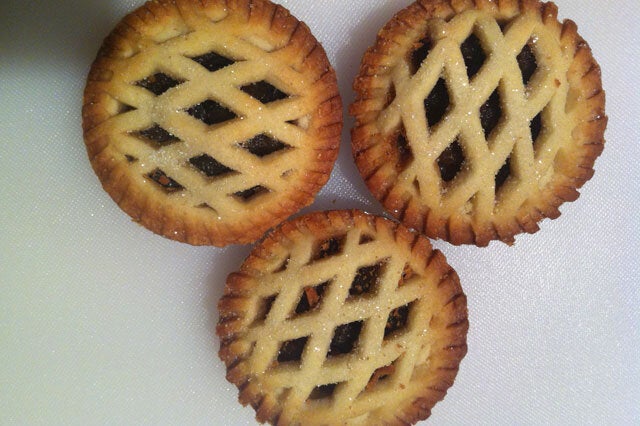 What it says on the box: Delicious butter rich shortcrust pastry mince pies filled with our fruity classic mincemeat, bursting with juicy sultanas, vostizza currants and raisins.
Verdict: Gorgeous on the eye, delectable on the tongue, and very pleasing for the wallet, too. These lattice topped pies are a joy to behold – especially as you can see exactly what you're getting beneath that peek-a-boo pastry top. Vostizza currants are, apparently, the best in the world, coming from protected vines in Greece. Whatever! They taste absolutely delicious. On the food front, M&S continues to triumph.
WAITROSE CHRISTMAS 6 ALL BUTTER MINCE PIES, IMPROVED RECIPE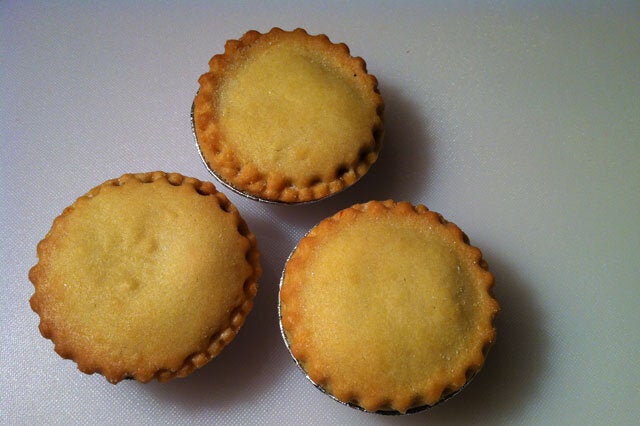 Cost per pie: 41p What it says on the box: Individual all butter mince pies with a rich mincemeat filling containing apricot, glace cherries, almonds and brandy.
Verdict: Simplicity is the key to this offering from Waitrose. No festive frills, just a basic-looking pie. And it tastes good – a biscuity bake with a luscious, fruit packed interior. Whether they're worth splashing out an extra quid for the pleasure is another matter.