It was first created in the 14th century as a porridge called 'frumenty' that was made of beef and mutton with raisins, currants, prunes, wines and spices – hence the term mince meat.
This would be more like soup and was eaten as a fasting meal in preparation for the Christmas festivities.
Thankfully, Christmas pudding was given a makeover by the Victorians, dispensing with the meat and fashioned into a showy-off mould, often in the shapes of towers or castles.
But ordinary folk just had puddings in the shape of balls. And if the pudding was a bit heavy, they were called cannonballs!
Which brings us to our Christmas puddings taste test. We've travelled the country to sample the top supermarkets' puds
Which left us feeling full of festive cheer? And which made us feel like we'd just swallowed a cannonball?
The first thing you need to know about Christmas puds is that you will need either a microwave or a steamer to cook them – and plenty of time!
Only a handful can be boiled in a pan, so I had to fashion a steamer by placing an upturned breakfast bowl in a large lidded saucepan and then fill it with water until it just covered the top of the upturned bowl. What a faff! But worth it? Read on...
SAINSBURY'S CHRISTMAS PUDDING, 450g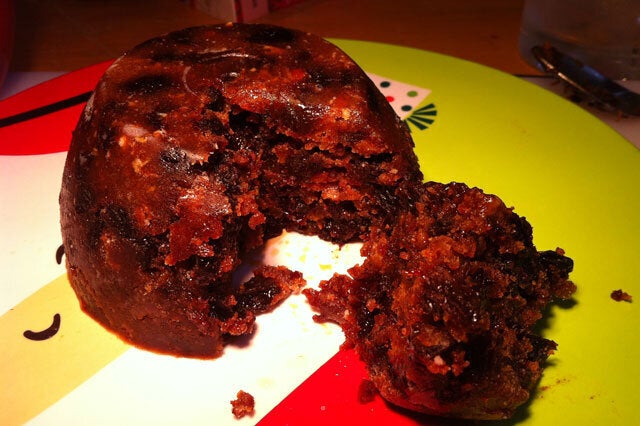 What it says on the box: No description.
Headline ingredients: Sultanas (33)
Cooking time: Microwave, 3 mins; Steam, 1 hour
Verdict: Dense and hard to swallow with a taste of raw flour (should I have cooked it for even longer?) One spoonful is more than enough. Flavour-wise, intensely dark with rich fruit. (Is 'dark' a flavour? It is now.)
TESCO FINEST 9 MONTH CHERRY TOPPED CHRISTMAS PUDDING, 454g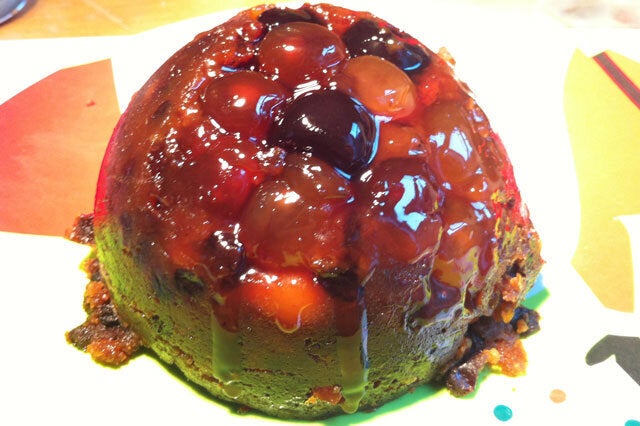 What it says on the box: This wonderfully rich, moist pudding comes from specialists who've been making Christmas puddings for more than 100 years. Packed with plump fruits, it's made with Courvoisier VS Cognac, English cider, Amontillado sherry and Ruby port for a deeper flavour. It's hand decoratd with French glace cherries, steeped in oak aged French brandy, then matured for 9 months to allow the flavours to develop beautifully. (Phew!)
Headline ingredients: Vine fruits: raisins, Turkish sultanas, Greek Vostizza currants (30) Courvoisier VS Cognac (4), Sultanas (15), Rum (3), Cider (10), Cider (12), Sherry (2), Raisins (9.4), Sherry (4.9)
Cooking: Microwave, 3 mins; Steam, 1 hour
Verdict: If you have a fondness for treacle pudding, this is the pud for you. The Asda pud is a super-rich dome of delight. Rich and heady with booze, it contains masses of fruit and has a wonderful array of textures from its juicy raisins, sweet glace cherries and crunchy nuts. And loads of booze (I might have already mentioned that). A real adults-only pud. Heavenly!
MORRISONS RICH FRUIT CHRISTMAS PUDDING, 454g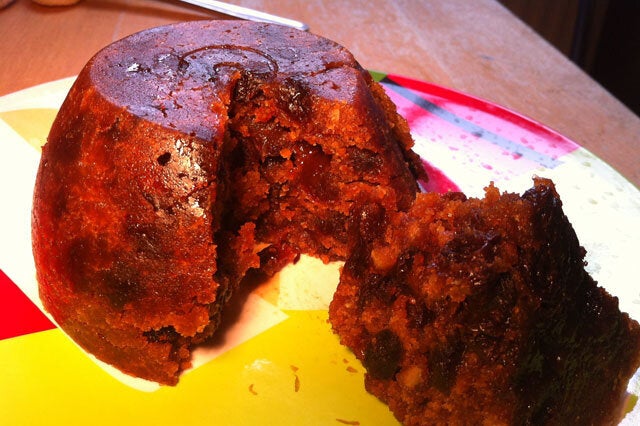 What it says on the box: The prefect end to your festive feast. A rich, mixed fruit pudding with cider and rum.
Headline ingredients: Sultanas (23), Raisins (7.3)
Cooking: Microwave, 2 mins; Steam or boil, 2 hours
Verdict: Perhaps it's because I want to believe in the M&S ads so much that I put a lot of store in this Christmas pud, and as pleasant as it was, it didn't blow my Christmas stockings off. On the plus side, it had lots of texture: softness from the vine fruit, crunchy from whole nuts, with a tangy hint of citrus flavour. And an open texture made it light on the belly. What's not to like? It was lovely. But with a 2 hour cooking time, it was the most labour intensive.
WAITROSE RICHLY FRUITED CHRISTMAS PUDDING, 454g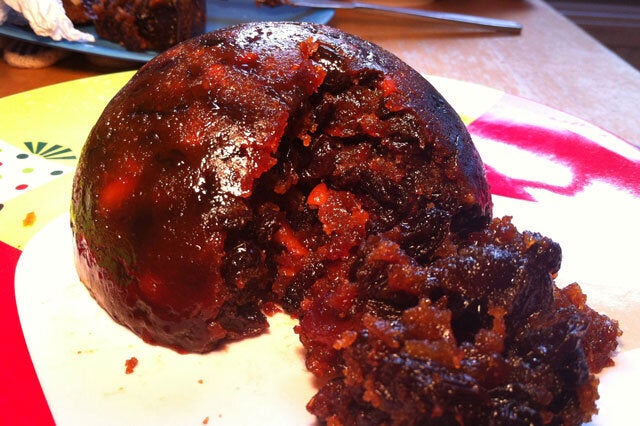 What it says on the box: Made with brandy, cherries, cream and almonds, with a generous dash of sherry.
Headline ingredients: Mixed vine fruits: sultanas, currants and raisins (35)
Cooking: Microwave, 3 mins; Steam, 1 hour
Verdict: MAHOOSIVE pieces of vine fruit which explode a torrent of juice into the mouth when bitten. Incredible ratio of fruit vs flour. Taste-wise, bordering on the savoury: very boozy and not quite sweet enough. A perfectly pleasant pub, but head-to-head with the delectable Tesco and Asda offerings, it comes in third.