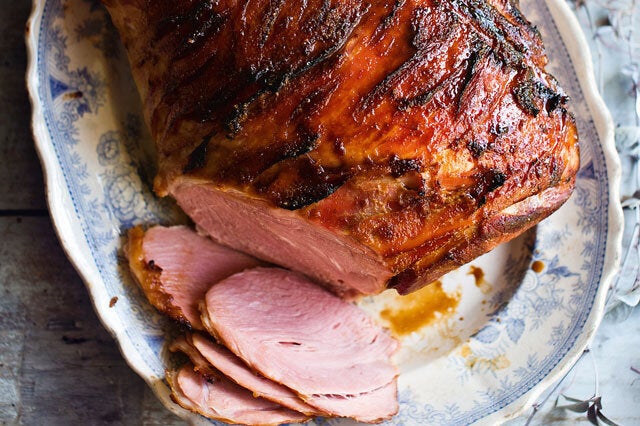 Great British Bake Off: Baked Christmas Ham
A real centrepiece, a whole ham is a thing of beauty. It is worth getting a whole one even if you don't have a very large crowd to feed on Christmas Day, as the leftovers will keep you going long after the day itself. If you want, just ask your butcher for a smaller chunk of the gammon on the bone.
You need to start this recipe at least the day before you want to eat it.You can bake the ham and leave it in a cool place (such as a cellar, unheated porch or secure garage, if the weather is nice and cold) for up to 24 hours before you want to finish it in the hot oven. Leave the skin on and make sure it is wrapped well in foil.
You will need a deep roasting tin (with a rack) big enough to hold the ham.
Serves:10, plus leftovers
Ingredients:
9-10kg whole unsmoked ham on the bone, soaked for 8 hours in cold water, changing the water regularly
3 tablespoons golden syrup
2 tablespoons black treacle
2 teaspoons ground ginger
A good pinch of English mustard powder
Juice of 1/2 an orange
2-3 tablespoons demerara sugar
1 large onion, quartered
2 carrots, roughly chopped
3 bay leaves
A handful of fresh parsley stalks
A handful of fresh thyme sprigs
8 black peppercorns
6 allspice berries, lightly crushed
1.5 litres medium dry cider
Instructions:
1. Heat the oven to 120°C/250°F/gas 1/2. Put the onion, carrots, bay leaves, herbs, peppercorns and allspice in the roasting tin. Pour the cider over, then put the rack on top.
2. Sit the soaked and drained ham on the rack and cover with a large tent of foil, sealing it well. Put on the hob over a high heat and bring to the boil. Simmer for 15 minutes, then transfer to the warm oven and bake for 8 hours or overnight.
3. Remove from the oven and increase the temperature to 180°C/350°F/gas 4. Using a sharp knife, carefully peel the skin away from the ham, leaving behind as much of the fat as you can.
4. Mix the syrup and treacle with the ginger, mustard powder and orange juice and smear all over the ham. Sprinkle with the sugar, place in the heated oven and bake for 45 minutes - 1 hour until sticky and piping hot throughout.