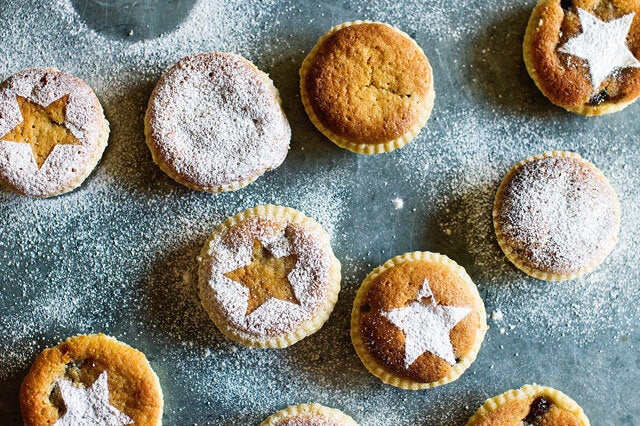 Great British Bake Off: Frangipane mince pies
Mince pies are the very essence of Christmas, and these are a far cry from the typical solid, shortbready, shop-bought varieties. There is no shame in using a jar of mincemeat, or even, if you are short of time, some ready-made shortcrust pastry. The soft frangipane topping elevates these from humble mince pies to showstoppers.
THINKING AHEAD
Freeze the cooked pies in their tins until solid, then transfer to freezer bags and freeze for up to three months.Warm through from frozen in a medium–high oven.
You will need a 7.5cm fluted pastry cutter and two 12-hole bun tins.
Makes:24
Ingredients:
For the frangipane
130g butter, softened
130g caster sugar
2 medium eggs
2 teaspoons dark rum
2 tablespoons plain flour
150g ground almonds
1 x 400g jar of mincemeat
Icing sugar, for dusting
For the pastry
300g plain flour, plus extra for dusting
A pinch of salt
135g cold unsalted butter, cut into cubes
55g lard, cut into cubes
2-3 tablespoons ice-cold water
Instructions:
1. For the pastry, put the flour and salt into a large bowl and, using your fingers, gently rub in the butter and lard until it resembles breadcrumbs. Add enough chilled water, a little at a time, for it to come together in a soft dough. Knead gently into a ball, wrap in clingfilm and chill for 15 minutes.Meanwhile, heat the oven to 200°C/400°F/gas 6.
2. For the frangipane, cream the butter and sugar in a bowl until light and fluffy. Gradually beat in the eggs and rum, then fold in the flour and ground almonds.
3. Roll out half the chilled pastry on a lightly floured surface to 3mm thick. Stamp out 12 rounds using the fluted cutter, then use to line a bun tin. Repeat with the remaining pastry to line the second tin. Place a teaspoonful of mincemeat in each pastry case.
4. Top each mince pie with a heaped teaspoonful of the frangipane mixture, place in the heated oven and bake for 20-25 minutes until golden. Cool on a wire rack before dusting with icing sugar and serving.
Great British Bake Off Christmas recipe: Baked ham