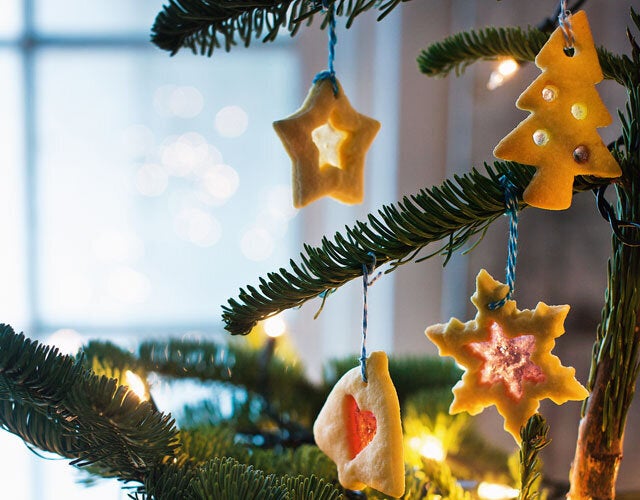 Great British Bake Off: Stained glass tree biscuits
These delicious butter biscuits look fabulous hanging on the tree with the lights catching the stained glass.
You will need Christmas biscuit cutters (about 8cm) and smaller decorative cutters to make the windows, as well as a range of flavoured boiled sweets to create different coloured glass.
Makes:30-35
Ingredients:
1 teaspoon orange extract
1 tablespoon milk
12 coloured boiled sweets
125g butter, softened
60g caster sugar
200g plain flour, plus extra for dusting
Instructions:
1. Put the sweets into freezer bags, keeping each colour in a separate bag, and bash with a rolling pin until they break into little pebbles of sugar. Set aside.
2. Using a hand-held electric whisk, beat the butter and sugar together in a bowl, until pale and creamy. Sift in the flour, then add the orange extract and the milk. Use your hands to mix everything together into a ball of dough. Wrap in clingfilm and chill for 10-15 minutes. Meanwhile, heat the oven to 180°C/350°F/gas 4 and line two baking sheets with non-stick baking paper.
3. Lightly flour a work surface and roll out half the dough to about 5mm thick. Using the biscuit cutters, cut out shapes and use the smaller decorative cutters to stamp out shapes from the middle of each biscuit. Carefully transfer the biscuits to the lined baking sheets, using a spatula. Repeat with the remaining dough, and re-roll the trimmings to make more biscuits.
4. Put one good pinch of the crushed sweet pebbles into the middle of each biscuit hole. Place in the heated oven and bake for 15-18 minutes, until the biscuits are just golden and the sweets have melted and filled the cut out areas. Whilst still warm, use a skewer to make holes in the top of each biscuit so you can thread them with string or ribbon to hang on your tree.
5. Leave to cool on the baking sheets until the sweets have set hard, then transfer to a wire rack. Once completely cool, thread with a string or fine ribbon and hang on your tree.