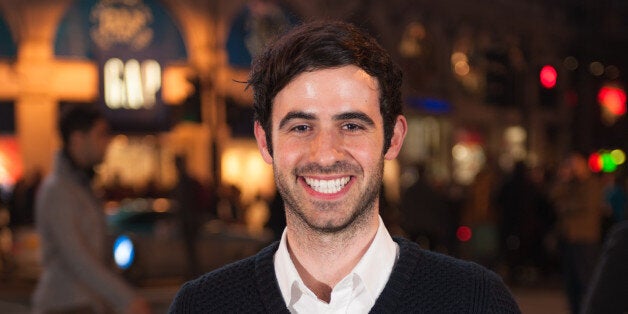 Nick Telson is one half of DesignMyNight.com - a nightlife discovery sites where customers can book everything from bars, clubs and pubs, to pop-ups to burlesque nights.
Nick and his friend both quit their corporate jobs and were unemployed for two years while they were trying to get their business off the ground. The pair were days away from quitting when a chance meeting at a dinner party secured them six angel investors - and the rest is history.
HuffPost UK spoke to 30-year-old Nick to find out what the inspiration was behind starting the company, and what other challenges they've faced along the way..
What inspired you to start your business?
Myself and Andrew (co-founder), were on a trip to New York and were blown away with the amazing nightlife knowledge of our hotel concierge. After a few (too many) ice-cold Margaritas a business idea was born.
We decided we'd had enough of the half-baked nightlife websites and the constant hassle of planning a night out in our favourite city in the world… What London needed was a site where you could discover and unlock the best, the new, the wallet-friendly and the secret nightlife on offer. But also a website to help plan, book online and buy tickets so the site does all the hard work so you could simply enjoy a cracking night out!
What risks did you have to take to start your company?
We both had very successful corporate jobs so the risks were large. We had spent five years climbing the ladder at our respective companies so jumping ship was both a financial risk but also undoing all the hard-work we had done to establish ourselves in those worlds.
We both always wanted to set up our own company but it was a definite step into the unknown. We put a time limit on how long we would attempt DesignMyNight before funds would dry up and perhaps realising it wouldn't work: The worst thing to do is to blindly keep ploughing on with an idea if it just won't work.
I don't think we were ever scared, at the start it's more exciting than anything but as time ticks on and the bank balance drops you do have to be realistic. We've always believed in the idea and thought we had enough about us, in a growing industry, to succeed.
Was it difficult taking the plunge and quitting your jobs?
Quitting our jobs and taking the plunge was probably the hardest decision. You can dream up ideas and meet on weekends and get excited about an idea but actually handing in your notice and waking up the next day, sat in your living room, thinking that you need to actually grow a business to live, is daunting!
But risk is what being an entrepreneur is all about. If you are happy climbing the greasy pole at a corporate and taking home your sizeable cheque every month then starting a business isn't for you. You have to be ready to face substantial obstacles, both financial and personal, to reach the goal of growing a successful startup and of course the rewards can heavily outweigh the monthly cheque if you hit the nail on the head.
It can't be all about money either; you really have to have that fire in the belly and excitement for freedom because it is a huge life shift and if you don't enjoy it then there really isn't any point.
How did you get your business off the ground?
Getting the business off the ground came in two stages. The initial 18 months of grunt work...physically walking into hundreds of bars in London and explaining the concept and trying to get some early adopters on board; which we managed to do.
We also read up a lot on SEO and made sure everything on the site was "Google friendly" so we would get picked up. After about 6 months we began to saw traction from Google which quickly increased our daily visits and luckily people responded well to the site so we got a lot of pick up from social sharing and word of mouth.
We launched at a time where the cocktail bar was really booming in London and bars started to become really inventive with their cocktail menus and decor. The second growth stage, which we are in now, came from Angel investment. We managed to secure funds from 6 prominent business Angels who all had significant success and experience in growing online brands.
Not only did their financial input allow us to grow the team, grow the site and do some low-level marketing but their expertise and know-how was fundamental. We are very lucky that they are very hands-on and always there for a chat. Now we stand, 4 years in, getting over 2m views a month, selling over 20,000 tickets a month, processing over 4,000 bookings a month and have a team of 20.
The learning curves have been steep. If you go into business thinking you know it all, then you will have a rude awakening!
The most important aspect we have learnt is being ready to pivot. Plans will inevitably change when you start trading, as might the landscape you're trading in. If you stick blindly to your original idea, you may get left behind.
Be quick, be nimble and be ready to change. Over the 4 years we have pivoted from a purely advertising model, to a bookings model, to a B2B ticketing model and a B2B booking software (Collins). These pivots have added vital revenue streams to the business and in fact brought forward our break-even plans by eight months.
You will spot gaps and opportunities as you go, so don't be afraid to grab them. I have also learnt that your product is only as good as the team you build around you. Build a core team that you trust and understand your principles. It is your team that will help grow the business because you can't do everything as founders.
How is the business doing now?
The business now is in its strongest position to date. As mentioned, we have brought forward our break-even by eight months, we have two pieces of B2B software getting huge traction across the UK and our consumer site is growing at a rate of 10-25% a month. 2015 will see us build on our core revenue streams and increase our penetration into the B2B side of the industry.
What do you personally aim to achieve?
I personally aim to create a highly profitable company while also making revolutionary changes to the nightlife and events industry. For some reason, it was left behind the restaurant industry and there is a lot we can do to work with them to bring their operations in line.
We are already seeing a huge shift towards a pre-booked market in the bar industry and I aim to put DesignMyNight.com at the forefront of this.