Barack Obama
might be the President of the United States, but he has one other title to be proud off: World's Most
Embarrassing
Dad, as proved by this glorious footage of his
teenage
daughters cringing away as he casually lols with the world.

It's a Thanksgiving tradition for the President to pardon a turkey. And this year was no different for Barack and his daughters Malia and Sasha – apart from the girls' complete unwillingness to cooperate with their dad's jokes.

At all. Zero tolerance.

While dad chuckles away to himself, Malia, 16, and Sasha, 13, roll their eyes, cross their arms and generally Want To Be Somewhere Else.

Yes, they are OVER IT.

*Hair flick*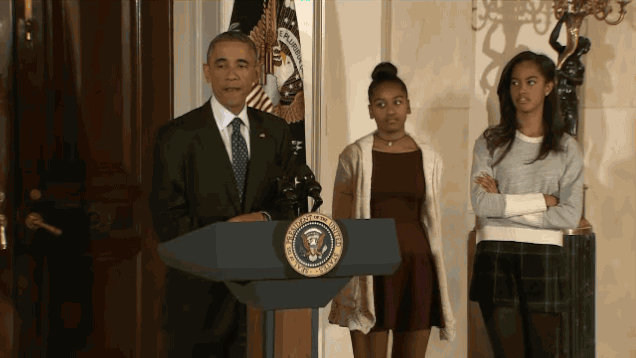 Add in a dollop of physical cringing from the pair you have a video made for embarrassed teenagers everywhere.

And I thought my dad was bad with his 'LET'S ROCK' expression when he came to collect me from parties.

Shudder.

You can watch the full, fabulous video below...
More on Parentdish:

When do you become an embarrassing parent?

Embarrassing parents on Facebook