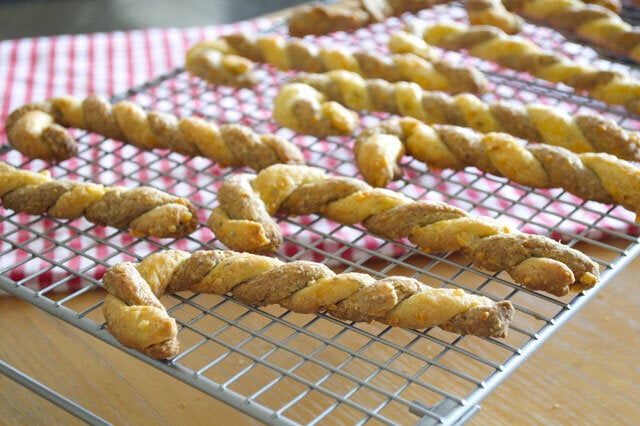 Cheese straws
by
Organix
These beautiful cheese straws make a wonderful Christmas gift that your children will be very proud of. Simply store the biscuits in a recycled jar, kilner jar or pretty tin with some tissue paper and ribbon. Just ensure the container is air tight to keep the biscuits crunchy - they will last for up to four days. If they're for a gift, make them as close to Christmas as possible. You can add different herbs, vary the cheese or add a sprinkle of sesame or poppy seeds for extra decoration.
Makes:
12
1 egg (or approx 3-4 tbsps water can be used instead)
1 egg (or approx 3-4 tbsps water can be used instead)
1. Preheat your oven to 200°C / 180°C fan / gas mark 6.
2. Make up the two batches separately. In a large bowl rub the butter into the flour with your finger tips, until it resembles bread crumbs (or a food processor can be used with the 'pulse setting'). Stir in grated cheddar and thyme.
3. Create a well in the centre and add whisked egg or water a little at a time, combining the wet and dry ingredients to create a dough. Add enough of the egg/water so that the mix comes together to form a smooth dough, that is not too sticky (if you have any egg left, reserve it for brushing the straws before they go into the oven).
4. Knead the dough just a little to bring it together, then place onto a lightly floured surface. Roll lightly into a rectangle and cut into 12 even squares. Repeat with the second batch (the less the dough is handled, the lighter the cheese straws will be).
5. To create the plait, take one of the 12 brown squares of dough, and roll into a long thin, even sausage shape with your hands on the worktop, (about the thickness of a straw). Do the same with one of the white squares of dough. Now plait the two strips of dough together. Finally, create a curve at the top to create a cane shape, and place onto a lined baking sheet. Repeat with the rest of your dough, until you have 12 beautiful canes.
6. For best results lightly brush each straw with a little whisked egg just before they go into the oven. This will give a wonderful golden shine to the finished biscuit, but it is optional. Bake for approximately 15 minutes or until golden.
More Christmas recipes on Parentdish: