A nine-year-old described as the 'most beautiful girl in the world', is dividing critics over her 'supermodel' status.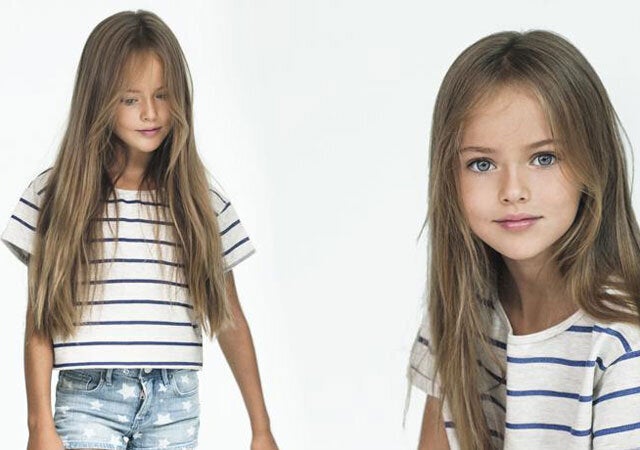 She's featured in campaigns for Dolce & Gabbana and Roberto Cavalli, her Facebook fan page has over two million 'likes' and her Instagram account has over 200,000 followers.
But critics say the girl is being sexualised and have pointed to comments on her photos which border on creepy and inappropriate, referring to her as 'hot' or a 'babe'.
Although she only models children's clothing, and wears little - if any - make-up in her professional shots, photos which involve her wearing shorts or little skirts often invite disturbing comments.
'Creepy pic for a child,' writes one commenter of a candid photo of Kristina wearing leopard print hot pants, while another, seemingly male user, wrote: "I like it."
In response to one comment about Kristina's 'sexy legs', another wrote: "Treating a child like a adult, taking adult style photos is so wrong.
"You are sexifying your daughter and parents like you are the reason why girls grow up to have many issues... also there are so many sick ppl out their that look at these in sexually ways."
Others attack her mother Glikeriya Shirokova, a former model, who decided to start her daughter in modelling at the age of three.
Story continues after video...
Kristina's biography reads on one of her many social media accounts: "She first got started in modelling when she was 3 years old, anywhere her mom would go, people would tell her how adorable Kristina was and tell her to try modelling.
"Her mom decided to try it out and Kristie soon realized how much fun it was, especially catwalk and fashion shows."
A modelling agent in London told the Mail that Kristina's poses were too suggestive, saying: "You can say her expression is sultry in her photos, or suggestive, or too mature.
"Or you can say she looks moody and sulky. Essentially, you're just looking at a girl who happens to be extraordinary beautiful. Perhaps if her face was that of an average-looking child, no-one would be having this conversation."