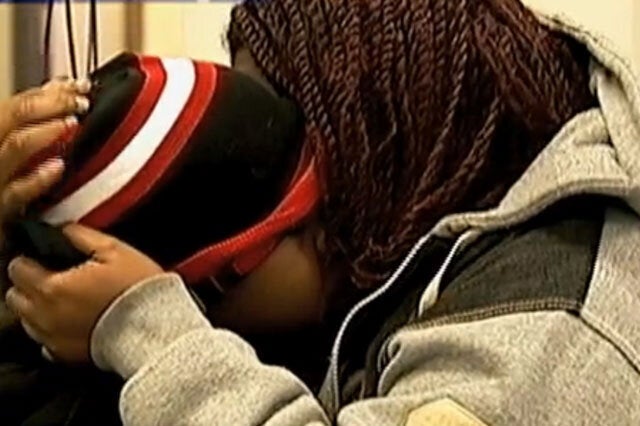 A 13-year-old boy who had been missing for four years was found alive, hidden behind a fake wall in a closet in his dad's home.
The boy was reunited with his mum after he was discovered in the house near Atlanta, Georgia.
Five people living in the home were taken into custody, including the boy's father Gregory Jean, 37, and a woman.
The suspects face charges of false imprisonment, cruelty to children and obstructing an officer. Three young people also in the home were facing obstruction charges.
The boy's mother had apparently reported him missing to child welfare authorities but not to police, so no missing person's report was filed.
Clayton County police were called to the house on Friday to look for the boy after a tip off.
However, Sergeant Kevin Hughes told local news: "After a brief search of the premises, the officers left without locating the victim."
Story continues after the video
But several hours later, authorities were called back. As police searched the house, the boy was able to make phone contact with his mother, who relayed to officers where her son was hidden.
Sergeant Hughes said: "They discovered him hidden behind a false wall in the interior portion of the home."
It was unclear how long the boy had been hidden or if he was kept there only when visitors came to the house.
The teen appeared to be in good physical health and was reunited with his mother.
The boy went missing in 2010 while visiting his father in Florida.
His father is being held in Clayton County jail and no bail has been set.
Authorities said Jean and Samantha Joy Davis could face more criminal charges as the investigation unfolds.