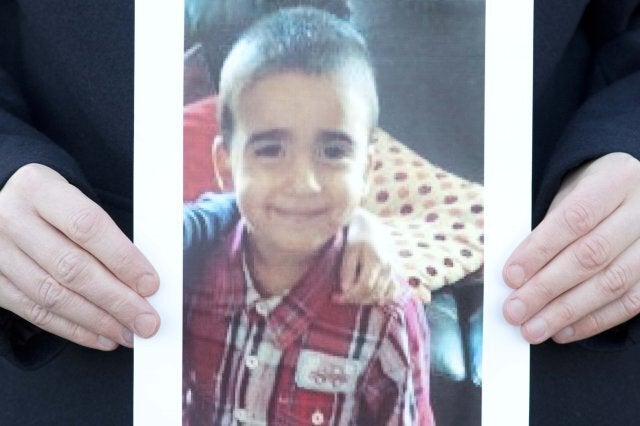 The mother of Mikaeel Kular has been allowed to leave prison to view her son's body.
Rosdeep Kular, who is accused of murdering the three-year-old, was taken under guard to the undertakers on Tuesday - the day before her son's funeral.
The Daily Record said guards escorted Kular, 33, to a funeral home in Kirkcaldy. It's understood her mother and step-father were there.
The single mum of five is on remand in Cornton Vale women's prison near Stirling.
A source said: "In a situation like that, the governor of the prison would have discretion to agree for an individual to have an escorted release."
Police found Mikaeel's body in woodland in Fife six weeks ago after his mother reported him missing from their home in Edinburgh.
She was subsequently charged with his murder and attempting to defeat the ends of justice.
Mikaeel's funeral was carried out in Fife by a female church minister from Edinburgh who had supported the family during the boy's disappearance and the discovery of his remains.
At Wednesday's service – attended by just nine mourners - Mikaeel's sister Renuka, five, paid an emotional tribute to her brother saying: "We love and miss you."
His brothers, David, seven, and Tarun, nine, read poignant poems during the 35-minute service.
Mikaeel's step-grandfather, Bangarpet Krishnaswamy, 69, said the siblings did 'exceptionally well' in what had been an 'emotional day'.
He said: "It was a private, respectful, non-religious service – that is what the family wanted. This chapter had come to an end and it was a very difficult time for everyone. It has been an emotional day as we said farewell to Mikaeel and he can now rest in peace."
It was revealed on Tuesday that Mikaeel died from internal bleeding in his abdomen and peritonitis, according to his death certificate.
Peritonitis is an inflammation of the peritoneum – the thin lining of the abdomen, or tummy. It is most often caused by an infection from elsewhere but can also develop directly.