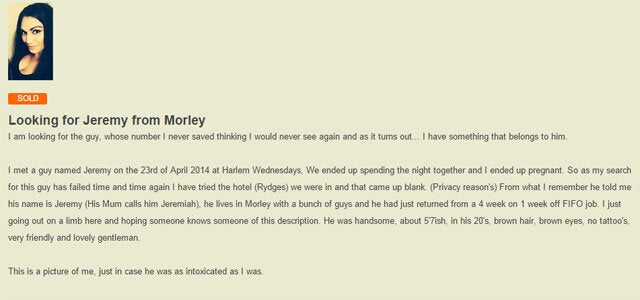 A woman who became pregnant after a one night stand has resorted to online small ads site Gumtree in a desperate attempt to track down the baby's father.
Australian Bianca Fazey, 24, met 'Jeremy' (last name unknown) on a night out in Perth in April, and the two of them headed to a hotel.
Having been diagnosed with polycystic ovary syndrome and told she was unlikely to have children, Bianca was astonished to discover that the one night stand resulted in a positive pregnancy result.
Unfortunately, she had neglected to save Jeremy's number - in fact, her knowledge of her mystery lover was pretty scanty. But resourceful Bianca came up with a novel way to reach out - online small ads website Gumtree.
'I am looking for the guy, whose number I never saved thinking I would never see again and as it turns out... I have something that belongs to him,' she posted on the site.
'I met a guy named Jeremy on the 23rd of April 2014 at Harlem Wednesdays, We ended up spending the night together and I ended up pregnant. So as my search for this guy has failed time and time again I have tried the hotel (Rydges) we were in and that came up blank. (Privacy reason's) From what I remember he told me his name is Jeremy (His Mum calls him Jeremiah), he lives in Morley with a bunch of guys and he had just returned from a 4 week on 1 week off FIFO [fly in, fly out] job. I just going out on a limb here and hoping someone knows someone of this description. He was handsome, about 5'7ish, in his 20's, brown hair, brown eyes, no tattoo's, very friendly and lovely gentleman.'
Bianca thoughtfully added an accompanying photo of herself, to jog his memory 'just in case he was as intoxicated as I was'.
However, Bianca's idea didn't exactly go to plan. The ad was quickly shared by amused or shocked web users, prompting a tidal wave of abusive, mocking or trolling messages that forced Bianca to close the ad to replies.
But she remains unfazed by the vitriolic response. "Society is still hating on women who choose to keep pregnancy outside of a relationship," she told Daily Mail Australia.
"All I can say is I chose to go ahead with the pregnancy because I didn't think I could have children. I couldn't be happier, I am looking forward to holding my little guy and raising him in a loving stable environment."
If you're out there, Jeremy, do come forward!