It turns out that one of the things Rebecca Romijn likes best about her character Colonel Eve Baird in the show which debuts on Syfy channel this evening is the short amount of time she has to spend in the makeup chair – which amounts to slightly less time than the NINE HOURS it took her to get ready to play the older Mystique in 'X Men: First Class'.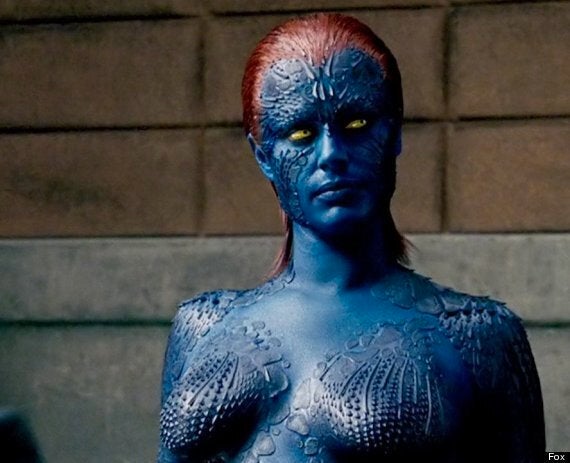 It takes a lot of work to look this effortless, according to 'X Men' actress Rebecca Romijn
"Sometimes, they'd have to wheel me in at midnight for my makeup to be ready for 9am on set the following day," she describes, matter-of-factly.
"The maintenance for that costume was so crazy, I would usually work for 24 hours straight, take two hours to take everything off, and then have a day off in between to see if my skin would go back to normal.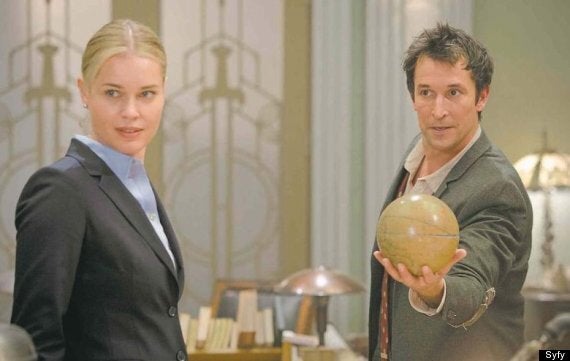 Rebecca Romijn stars with Noah Wyle in 'The Librarians', what she calls 'an Indian Jones adventure'
"For 'The Librarians', I hardly wear any makeup, just have my hair slicked back in a bun and I'm out of that make up chair. And I get to wear clothes. It's bliss."
Rebecca is one of the Librarians of the title, recruited by an ancient organisation hidden beneath New York's Metropolitan Public Library that solves impossible mysteries, fights supernatural threats and recovers powerful artifacts from around the world. Another draw for Rebecca was to appear with Noah Wyle,the star of the previous TV films in this series, and an actor she reveals she hadn't tipped to be the kind of funnyman who made her ruin takes with laughing…
"I was pleasantly shocked when I got on board with this project," Rebecca tells HuffPostUK. "This is Noah's baby, and it's like an Indiana Jones adventure. I was so surprised by how funny, cooky and and bumbling he was. Noah inhabits his character in such a hilarious way, comes up with stuff that's not on the page. There were times when I ruined takes because I was laughing so much.
Of the fantastical tales in the series, Rebecca already has a favourite.
"I love the Christmas episode," she chuckles. "We have to help Santa Claus get back to the North Pole, or Christmas isn't going to happen.
"And Colonel Eve Baird is the sceptic of the group, she doesn't believe in Santa Claus, and yet she's stuck with him in a car for the entire episode."
'The Librarians' debuts tonight in the UK on Syfy channel at 8pm. Watch the trailer below...