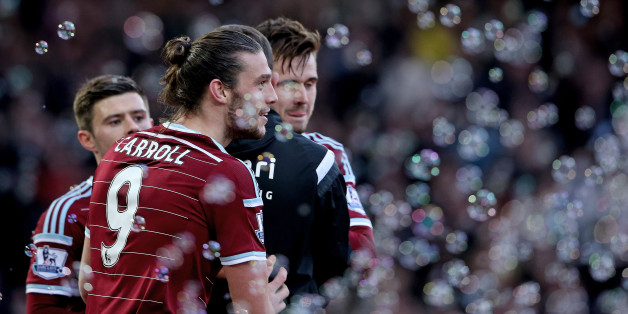 Scott Heavey/PA Archive
Andy Carroll has come under fire from his boss and football fans everywhere after suggesting that West Ham can win the Premier League.
Andy Carroll: "With the team we have and the way the manager is coaching us, we can win the Premier League." pic.twitter.com/LyTTe9WmDa

— Transfer Related (@TransferRelated) December 9, 2014
The striker, who has scored four goals since joining the Hammers in 2013, praised his manager and his team, adding: "We can go all the way to the top."
Chelsea currently top the table, nine points ahead of the Irons who sit in fourth place.
Manager Sam Allardyce quickly piped up, advising Carroll not to get complacent about being so high in the rankings.
Allardyce warned that the injury prone forward shouldn't let his two goals against Swansea go to his head.
Big Sam wasn't the only one to criticise the England player - most of the internet felt the need to join in too.
Andy Carroll says West Ham can win the Premier League title. pic.twitter.com/RowPdarRcN

— Paddy Power (@paddypower) December 9, 2014
If anyone else is feeling as confident as Andy Carroll, West Ham are 750/1 for the title... http://t.co/1b3ak6Dls9 pic.twitter.com/wSsy2vlNRg

— Paddy Power (@paddypower) December 9, 2014
Andy Carroll is aiming for the top of the Premier League with West Ham. pic.twitter.com/v787KwLLQC

— Dream Team (@dreamteamfc) December 9, 2014
So andy Carroll thinks we can win the league https://t.co/7UzDijar6S

— lee hoskyn (@hosks76) December 9, 2014
Was Andy Carroll's quote about West Ham's title tilt said on this night? pic.twitter.com/ea0MjJhk3b

— Steve P. (@StevePWilliams) December 9, 2014
Andy Carroll says West Ham can win the Premier League title!!

December 9, 2014
Andy Carroll: "With the team we have and the way the manager is coaching us, we can win the Premier League." pic.twitter.com/XonJ3dacak

— David Beckham (@DBecks07) December 9, 2014