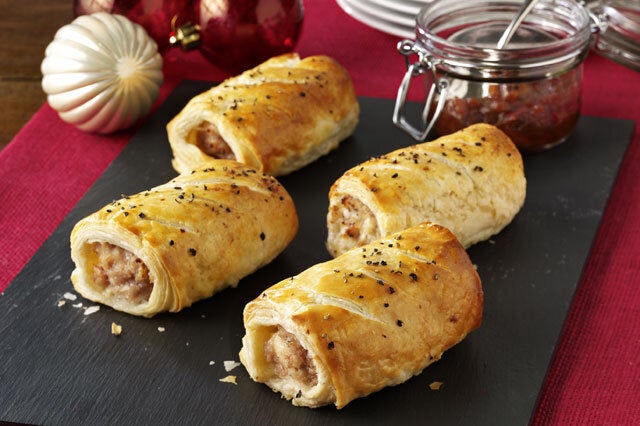 Christmas sausage rolls

by

Marcus Bean
Marcus Bean won Iron Chef UK in 2010 on Channel 4. A former farmer, Marcus is now a regular chef on ITV's This Morning, appearing on Good Food's Market Kitchen, Channel 4's What's Cooking and Food Network's Christmas special, amongst others.
150g Boursin Cranberry & Pepper (Or any cream cheese)
Plain flour (for rolling out pastry)
250g all butter puff pastry
1. Place the sausage meat into a mixing bowl, add the Boursin Cranberry & Pepper and mix together well. Season with salt and pepper to taste.
2. On a floured surface, roll out the puff pastry to a 5mm thickness. Cut into four squares.
3. Divide the meat mixture into four and shape into sausages. Place on to the pastry squares.
4. Using a pastry brush and a little cold water, gently brush the pastry around the sausage meat and then carefully fold the pastry over and around the meat, forming a sausage roll.
5. Pinch the seal of the pastry together and place on to a baking tray with parchment paper, making sure the seal of the pastry is on the bottom.
6. To make the egg wash, add the eggs and milk together with a pinch of salt and gently whisk. Brush the sausage rolls with egg wash.
7. Bake in a preheated oven at 200°C for approximately 20 minutes, until golden brown in colour.
8. Allow to cool on a wire rack, before serving warm.