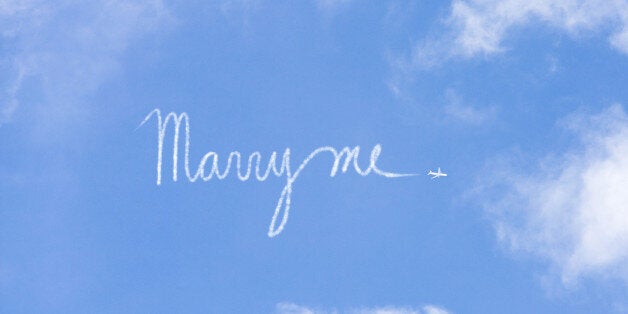 When it comes to being creative (and downright cheesy) when proposing marriage, forget Hollywood.
Amateur movie makers are in love with love. And 2014 has been another bumper year for outrageously ingenious, enormously time-consuming and logistically-confounding marriage proposal videos.
Just take Levy Randolph, who popped the question to Tiffany on October 14. He's been saving for his proposal since he was 12 years old.
Levy spent 17 months planning a scavenger hunt proposal, which included manicures, a limo ride and a shopping trip for a special dress, eventually ending in the bride-to-be arriving at the Rose Bowl in Pasadena, California where the couple first met.
Then there's the One Direction fan who asked the band to help them pull of their perfect proposal. Concertgoer Bradley Chisenhall got down on one knee, surrounded by flashing iPhones, excited 1D fans and one very surprised girlfriend.
Or what about John Ferreira who turned to his friend on Reddit for help with his proposal to girlfriend Catherine Mauro at the Bonnaroo Music and Arts Festival, with amazing results?
Scroll down to watch all these proposals!
But surely nothing quite beats Matt Van Vliet and Samantha Labo, whose love story began in, err... jail.
When the pair were arrested on suspicion of underage drinking during their freshman year at college (they were later cleared), they were strangers. But that night changed everything.
Four years later in 2014, Van Vliet asked their original arresting officer Police Chief Edward Andersen to pull the couple over -- so Matt could propose. And the whole thing was recorded for posterity by a police dashboard camera.
Click through our gallery to watch 2014's most creative lovestruck fools in action...