Comedian Sunna Jarman has died of cancer, at the age of 40.
Chortle have reported that Sunna, a stand-up comedian and actress, died after a secret battle with cancer this weekend.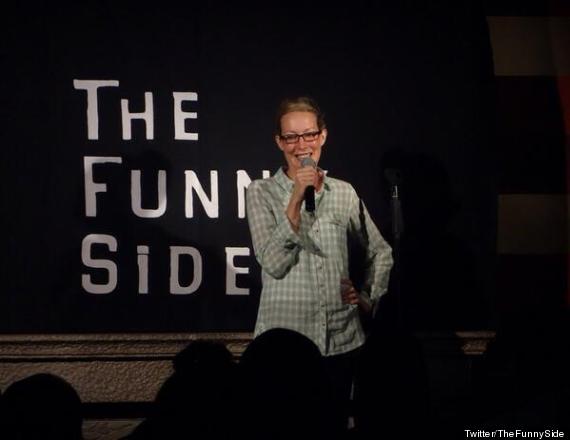 Sunna Jarman
Earlier this year, Sunna performed her first ever solo show, 'Family Tree', at the Edinburgh Fringe festival, where she discusses the class system, describing her life as a self-confessed "posh girl" who married a Northerner.
She also appeared in the AAA comedy show this year, alongside Larry Dean and James Bran.
As well as her comedy work, Sunna had previously done work as a model, appearing in ads, on the front of magazines and even as a body double for Sharon Stone in the film poster for her film, 'The Muse'.
In an interview earlier this year, Sunna claims that she "fell into" stand-up through her acting and modelling work, but ended up being "bitten by the stand-up bug" after an appearance in Edinburgh.
Some of Sunna's contemporaries have paid their tributes to her on Twitter:
Such sad news about Sunna Jarman. She was delightful and will be sorely missed. Lots of love to her family

— Nish Kumar (@MrNishKumar) December 10, 2014
Very sad to hear about Sunna Jarman. She was an utter delight to be around.

— Michael Legge (@michaellegge) December 10, 2014
Just heard the news about Sunna Jarman. Couldn't claim to know her well but whenever we did cross paths she was a joy. Too young, unfair

— Tiffany Stevenson (@tiffstevenson) December 10, 2014
Just heard the news about Sunna Jarman. Awful. Rip

— Archie W Maddocks (@ArchieMaddocks) December 10, 2014
RIP Sunna Jarman - Who sadly lost her battle to cancer. Here is Sunna doing what she did best. https://t.co/tt6QBaDhmE

— Radio Ha-Ha! (@radio_haha) December 10, 2014
I knew about @sunnajarman's death on Sunday as we were friends. I'm so sad. What a naturally funny, delightfully eccentric, unique character

— Adam Bloom (@adambloomie2) December 10, 2014
RIP Sunna Jarman. you were weird and funny and nice, and it was always a pleasure to gig with you xx

— Andrea Hubert (@ShutUpAndrea) December 10, 2014
"Comedian Sunna Jarman dies" http://t.co/5CIHn96kMB - Really sad news. She coined the term "gagpie" when Keith Chegwin was stealing jokes.

— Ms Slide (@sliderulesyou) December 10, 2014
According to Chortle, a funeral is to be held for Sunna next week.
She is survived by a husband and two sons.
LIKE US ON FACEBOOK | FOLLOW US ON TWITTER