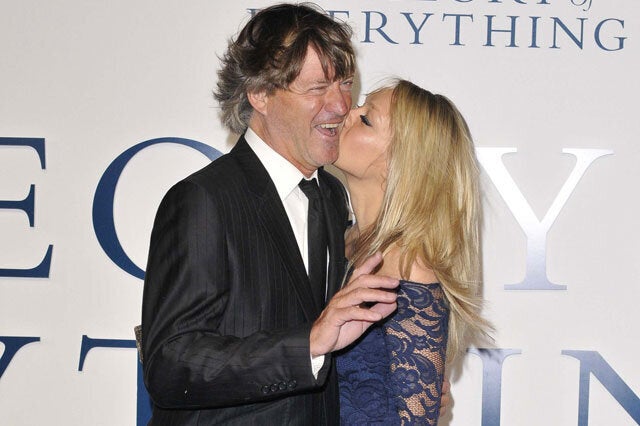 Richard Madeley's daughter Chloe has upstaged her father by doing what he does best - being embarrassing.
Richard Madeley, 58, secured his title as one of entertainment's most embarrassing dads when he did THAT Ali G sketch on ITV's This Morning.
No matter how hard we try to forget it, Richard's cringe-worthy performance will be forever etched in our minds - so we can only imagine the effect it had on his children!
But his daughter Chloe, 27, decided it was time to give her dad a taste of his own medicine on Tuesday December 9, when she surprised him with a kiss on the cheek.
Richard clearly was not expecting the gesture and regressed to the level of a teenager being kissed by his mum in front of his friends, by reacting with an awkward grimace.
The pair were at the premiere of new film The Theory Of Everything at the Odeon in Leicester Square.
Chloe is Richard and his wife Judy Finnigan's youngest child, they also have a 28-year-old son called Jack.
Chloe has embarked on a career as a fitness trainer and recently urged her mum and dad to give up alcohol.
"I'm taking steps to encourage my parents to become fitter,' she told Woman magazine. 'I also want them to cut down on alcohol. They don't drink loads – but they drink enough."
She added that with her encouragement Richard and Judy, 66, now take half-hour walks every day and she has shown Richard how to lift a barbell.