A former JJB Sport Chief Executive has been found guilty of accepting three separate bribes amounting to over £1m from suppliers.
Christopher Ronnie reportedly used this money to buy a property in Florida whilst in debt of £11m to an Icelandic bank.
The judge said his actions were "very greedy", handing him a four year jail sentence after a unanimous guilty verdict.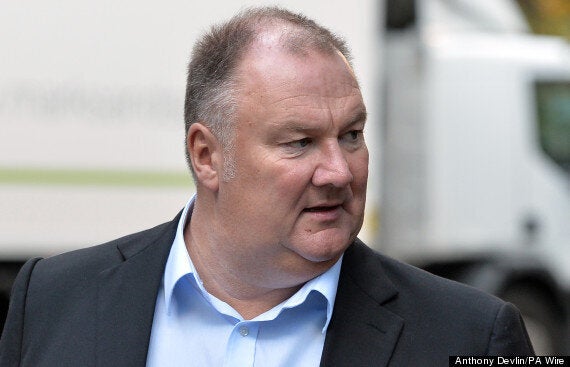 Christopher Ronnie arriving at Southwark Crown Court earlier this week
But when the troubled Icelandic bank tried to recover its cash, Ronnie lied about his assets and liabilities, Southwark Crown Court in London heard.
The charismatic businessman was found guilty last month of fraud over three six-figure cash payments when he was at the helm of JJB Sports in 2008.
Judge Nicholas Loraine-Smith said Ronnie took up his post as chief executive in 2007 which "brought with it enormous responsibility to the employees and the shareholders".
But "Within months you were grossly abusing that position by embarking upon a course of conduct which was dishonest in the extreme.
"Over a period of nine months they gave you just under £1 million.
"You hid the fact they had paid you those sums because you wanted to keep your position as CEO and keep the money, and spend it as you did, mainly on the house.
"You had to disguise the real reason for the receipt of that money, you went to great lengths to do so."
The judge said Ronnie had tried to bat off the allegations, telling police it was part of a "witch-hunt" against him.
The judge added: "I'm unable to see any sign of remorse or even embarrassment about what you have done.
"This was a flagrant and disgraceful breach of your duty as a CEO of a public limited company.
"This was a particularly vulnerable period in the company's history prior to its collapse."
Business partners David Ball and David Barrington - who worked for the firms which made the loans - were sentenced to 18 months in prison each for helping Ronnie cover his tracks. All three must serve at least half their sentence.
The case against the three men cost the British taxpayer £630,000 - £500,000 on Ronnie's case alone.
The fraud focused on three large loans of several hundred thousand pounds which he received from suppliers, but failed to declare to the JJB Sports board.
Ronnie, who lives in Wilmslow, Cheshire, and was chief executive of JJB Sports between August 2007 and March 2009, received the payments in 2008.
His company, Seacroft, received £650,000 in February 2008 from supplier Performance Brands. That June he received 380,000 US dollars (about £197,000) from Fashion and Sport, another supplier.
A third payment, again from Fashion and Sport, was made to Ronnie later that year, this time of 250,000 US dollars (about £134,000).
Ronnie owed £11 million to Icelandic bank Kaupthing Singer Friedlander, and agreed he would provide it with documents about his loans and assets. But he falsified information about his assets and liabilities over these loans when he bought shares in JJB Sports.
The court heard that the fraud could have shaken the market's trust in the company had it come to light at the time.
Prosecutor Miranda Moore QC said: "One cannot pin a fiscal health on a company which, by anyone's point of view, was going through tough times.
"But Mr Ronnie was trusted and hailed as this new and brilliant leader."
Self-made businessman Ronnie went from being able to raise £190 million on the market to fund his stake in JJB Sports, to being a man "broken financially", his defence lawyer, Jim Sturman QC, said.
Sturman said it had been a "hellishly difficult year" for Ronnie, who was left in financial straits following the economic crash.
He said: "He left school before he was 16 and by virtue of hard work and charisma he managed to build himself up to a position where he could borrow £190 million to buy the stake in the company.
"And the crash caught him unawares as it caught others unaware."
Ball, 54, and Barrington, 52, covered up emails relating to the loans and asked a computer engineer to wipe any trace of the emails, the court heard. But the engineer was so concerned that he contacted the Serious Fraud Office.
Moore said it was "sheer fluke" that he had the material and showed it to investigators.
Ronnie, who did not give evidence in his own defence, was convicted of three counts of fraud, and two of furnishing false information.
Ball, 54, from Sutton, Surrey, was convicted of two counts of attempting to pervert the course of justice, as was Barrington, 52, from Sale, Cheshire.
Ronnie was also banned from being a company director for eight years. Confiscation proceedings to claw back some of the costs of the case are expected to be launched.