Legendary Arsenal and Barcelona striker Thierry Henry has announced he's retiring from football to take up a lucrative position as a Sky Sports pundit reportedly worth £25 million.
Ray Parlour, former Arsenal teammate of Henry, told Morning View that Sky had got a great signing because Henry could be a "top-class manager"
The 37-year-old, like an increasing number of football veterans, has opted for the comfortable chair of a football commentator rather than the rumored coaching role back at his former club.
Arsenal fans have taken his move to Sky Sports as bittersweet, hoping he would have returned to the Premier League with his old London side.
Sky Sports for now, but he'll be back sooner or later. #managerHenry

— Amy Trenter (@amystm2) December 16, 2014
Can't believe Thierry Henry has now retired. Hopefully Arsene brings him in as a coach

— Darren Ross (@DeejArsenal) December 16, 2014
He was and always will be a true #Legend at #arsenal

I hope he returns to us one day again, this time leading and managing @ThierryHenry

— Lee (@LondonLad77) December 16, 2014
Footballers and commentators alike have flocked to Twitter to wish him well on his new career.
Congratulations to @ThierryHenry on a truly wonderful career. One of the great footballers of our time and a top bloke. Bonne chance.

— Gary Lineker (@GaryLineker) December 16, 2014
A true inspiration to me in my career. Thank you @Thierryhenry & good luck in your new path with @skysports pic.twitter.com/0ox5kdBRlj

— Theo Walcott (@theowalcott) December 16, 2014
Here's @ThierryHenry talking to us ahead of today's big announcement. #WelcomeThierry

December 16, 2014
Thierry Henry's Career
Henry started playing football at the age of six, and his talent did not stay unnoticed for long. Nurtured at the national football center alongside Nicolas Anelka and David Trezeguet, he started his professional career at Monaco, where he won the French league in 1997.
He was selected for the World Cup on his home soil. Although Zinedine Zidane was the big star of the tournament, Henry did not disappoint, and scored his first international goal in the group stage against South Africa before netting a brace against Saudi Arabia.
After a disappointing stint at Juventus, Henry bounced back under the helm of Arsenal coach Arsene Wenger. The World Cup winner arrived in London in August 1999, after Wenger's side was denied back-to-back titles by one point by Manchester United.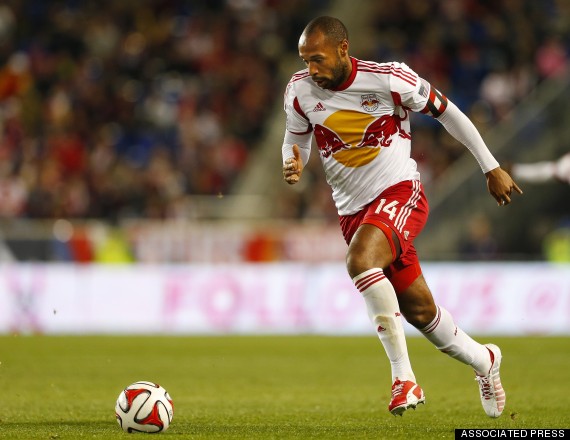 Henry at his last club - New York Red Bulls
After failing to score in his first eight games, Henry netted 26 goals that season and went on to score 226 times in 369 appearances for Arsenal from 1999 to 2007, winning seven trophies.
Henry joined Barcelona in 2007, becoming part of Pep Guardiola's side that won six major trophies two years later, including the Spanish title and a Champions League triumph over United.
Henry ended his international career on a low, after making his 123rd appearance in a 2-1 defeat against South Africa, during the dismal 2010 World Cup campaign.
He ended his club career in America for the New York Red Bulls where he continued to score making him the highest earning player the Major League Soccer in 2012, surpassing David Beckham.