Boxer Anthony Crolla is recovering in hospital after being attacked by burglars armed with a concrete slab.
The Lightweight fighter sustained a possible fractured skull and a broken right foot whilst defending his neighbour's property from burglars.
Burglars beat @ant_crolla up,after he worked so hard to get his world title shot,has severe head injuries & a broken ankle.fucking scumbags.

— Ricky Hatton MBE (@HitmanHatton) December 16, 2014
Really sorry to hear the news about @ant_crolla hope you get well soon mate

— Amir Khan (@AmirKingKhan) December 16, 2014
sorry to hear the news about @ant_crolla ... what is wrong with people. Get well soon bud 🙏🇬🇧

— Audley Harrison MBE (@audley_Harrison) December 17, 2014
His trainer, Joe Gallagher, described how after apprehending one burglar and the other "lifted a slab of concrete and hit him with it, and he fell and broke his ankle."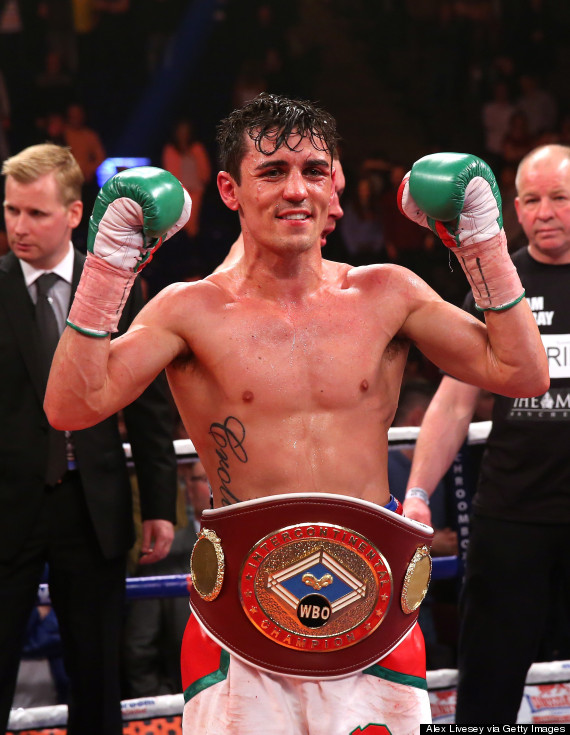 Crolla after winning the WBO inter-continental title earlier this year
Gallagher reported Crolla is "heartbroken" because his fight in January for the lightweight World title has had to be cancelled.
Crolla had said about the forthcoming fight: "To have the world title shot in Manchester is a huge factor. Without wanting to sound cheesy, it doesn't get any bigger than that."