Which means the halls are being decked with boughs of Christmas specials - including another turn with last year's favourite 'Mrs Brown's Boys', 'Downton Abbey's annual holiday special, and a farewell outing for 'Miranda' - and it seems the TV schedule is already being thoroughly discussed on social forums.
It seems, from all this chat, that there is a CLEAR favourite that viewers are looking forward to, and that's 'Doctor Who' (6.15pm, BBC1, Christmas Day).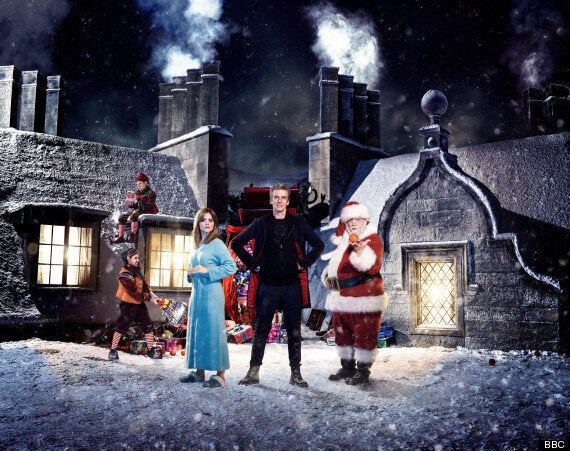 Peter Capaldi and Jenna Coleman will be flying to the North Pole on Christmas Day
While fans have been divided in their reception of Peter Capaldi replacing Matt Smith in the Tardis, they are united in looking forward to his festive outing to the North Pole, where he's tackling Santa (Nick Frost) and some deadly aliens. The biggest pre-show chat is whether this Yuletide will be the official adieu of Clara (Jenna Coleman), who we already know is leaving the show soon. But, really, Christmas Day? Have these people learned nothing from the outrage caused by 'Downton Abbey's festive farewell??
In a surprising second place to the Timelord is... Michael Buble! Yes, somehow, the Canadian crooner has parked himself firmly in British hearts, with his festive songs crowding out the top of the Spotify charts. His NBC Christmas In New York has already aired in the States, but British fans can see him in action, alongside Rod Stewart, Blake Shelton and, thanks to some digital wizardry, Bing Crosby, in 'Michael Buble's Christmas Songbook' (7.50pm, Channel 5, Tuesday 23 Dec.)
'Miranda's farewell 8pm, BBC1, New Year's Day' is causing some chatter, with fans sad to see the end of Miranda Hart's screen alter ego. The actress and writer has revealed she cried while writing her final scenes, but she wanted to end the show before followers started to feel sorry for her title character.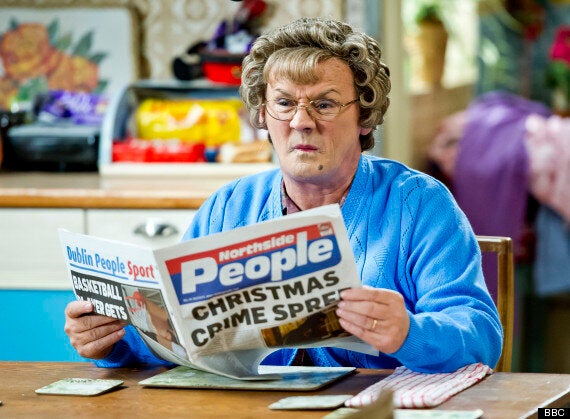 Mrs Brown's Boys topped the ratings last year for Yuletide
Not much talk yet about 'Mrs Brown's Boys' (10.05pm, BBC1, Christmas Day), but Brendan Carroll probably isn't too worried after the phenomenon of last year's ratings for his alter ego. Nor, surprisingly, is there anything like the usual chat about 'Downton Abbey' (9pm, ITV, Christmas Day) - have we finally had enough of the Crawleys and their dramas? Nor are people getting wound up - YET! - by the 'Top Gear: Patagonia' Special (8.30pm, BBC2, Saturday 27 Dec), although that may well change once it's aired.
A surprise entry in the top ten of all the Christmas specials this year, however, getting more attention than anybody except Doctor Who and Mr Buble are… the 'TOWIE' brigade, with the festive lives and loves of those Essex saucepots inciting a whole load of chatter, debate and mirth across social media.
What are YOU looking forward to watching most this Christmas on TV? Let us know below!
Social media data referred to in this article has been supplied by Virgin Media, which provides access to up to 260+ channels including Freeview Channels, Virgin Movies, Sky Movies and Netflix.