'Unbroken' star Jack O'Connell was shocked that Angelina Jolie kept her promises to him and treated her crew so well, despite the pressure of filming the epic wartime drama, out later this week.
The British actor who beat thousands of candidates to the lead role in this big-budget film, tells HuffPostUK: "She wanted the best for both of us, and she stuck with that right through. I saw her excel herself every day on that set, while engaging with everyone throughout the crew as a total equal, under that pressure and in that sort of Australian heat. It's very difficult to keep your manners, I guess, but she did it all effortlessly, which kind of makes me feel like no one else has any excuses."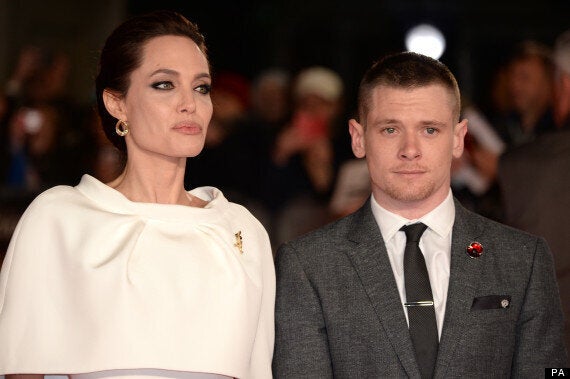 Angelina Jolie impressed her leading man Jack O'Connell with her democratic approach to film-making
Jack, who remains a refreshingly frank character despite his rising star, admits he was pretty nervous about meeting the Oscar-winning actress (whom he now happily calls 'Angie') to discuss the role of Olympic athlete and wartime prisoner Louis Zamperini, but he told himself to keep it together for 20 minutes.
"She pitched the role of Louis to me, and I pitched my adoration for the men of Louis' generation, and I think she responded to that."
Jack had the chance to meet Louis three times, before he died earlier this year, but the Derbyshire actor wasn't happy the first time because of the formality of the occasion, and the fact he was even asked to use a different voice…
"I was quite frustrated, it became the studio's meeting, all on film under the lights in his living room," he remembers.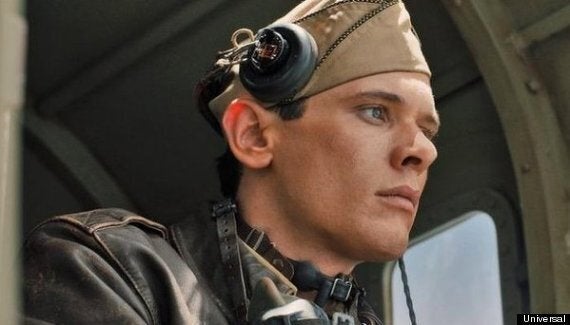 Jack O'Connell wanted to pay tribute to Olympic athletic and wartime prisoner Louis Zamperini after meeting him three times
"I sensed he felt uneasy, and it made me feel intrusive so I gained very little from it. I was even asked, would I speak in an American accent, to give him a chance of understanding me, and I thought, what are we dealing with her? How's about I just give a clear version of my accent, which does exist, by the way, America?" He cracks a grin. "I was wrestling with that a little bit… as you may be able to tell."
The second meeting between actor and subject proved much more fruitful. "He got his notebook out and some of his memorabilia, and his family were so welcoming, so I felt I had their seal of approval. So I was in Australia having known this fellow, and trying to pay tribute with this film."
There is a key scene in the film, where Louis – victimised by a sadistic Japanese commander – is forced to hold a plank on his shoulders, with the threat of death if he falls. Bruised, exhausted, emaciated, it is the moment where Louis must make a choice of life or death, and battle over circumstance with his supreme willpower.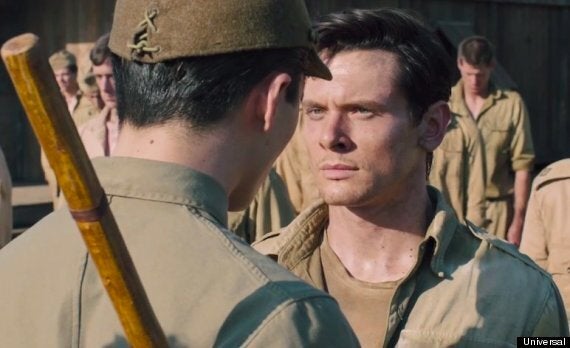 Louis Zamperini was singled out for particularly bad treatment in the POW camp in Japan
Jack has previously complained about his treatment by the media, blaming their lurid tales of his personal life for his not getting the US visa he needed to fulfil a role he once coveted. As he tells it now…
"All they managed to achieve then was harm what could have been a success story for the country and actors like me, but that doesn't sell papers or gossip magazines.
"So they drilled into me the way they did, and it did influence things in a negative way, and they want to stay out of my nana's way. If they end up in the firing line of my nana, they're going to know about it.
These days, however, having caught Hollywood's eye with starring roles in 'Starred Up' and more recently '71' and now with a huge epic drama to his name, he seems more philosophical about such things…
"I remember being rejected for a visa before I got one, because it meant I didn't go on and do a role that I perhaps shouldn't have done, anyway," he remembers.
"The embassy people decided for me by not giving me a visa, and since then I've had to face the right direction, do the right things since then, and now I've got this visa. If I'd got it then, I don't think I'd have been taken seriously for this role."
So, after being so bruised before by media attention, how's he going to cope with the surge in interest he's bound to attract now?
"It's water off a duck's back," he smiles. "I'm baffled by the stupidity of it all. Hopefully it won't be as costly, hopefully there's a lot more I can do to make sure I have a voice in all of that."
'Unbroken' is in UK cinemas from Boxing Day 26 December. Watch the trailer below...