Ok, the bells are ting-ting-tingling, the snow is (metaphorically) falling and Christmas is nigh upon us. With all those presents wrapped, all the early cooking done, the house tidier than usual… what's to be done except sit down in front of the box with a well-deserved glass of port and see what small screen entertainment has to offer?
Here, then, is our bespoke viewing guide to the next 48 hours of telly, whether you're in the mood for a sneaky half-hour away from the family, or have decided to indulge this year in a full-on binge-fest. The good news is… there really is something for all the family. Let's away…
Christmas really isn't Christmas, telly-speaking, until the first sweet descant voice is heard pealing from inside the glorious walls of Kings College Chapel, Cambridge. Astonishingly, this is now the 60th year of the tradition but it really ain't broke. Please don't feel you have to try putting celebrities somewhere in the choir next year, BBC!
POLAR BEAR: SPY ON THE ICE (Eden Channel)
While you're curled up by your roaring fire, spare a thought for this furry lot, with hidden cameras capturing the intimate lives of these beautiful creatures, cuddling each other for warmth. Beautiful.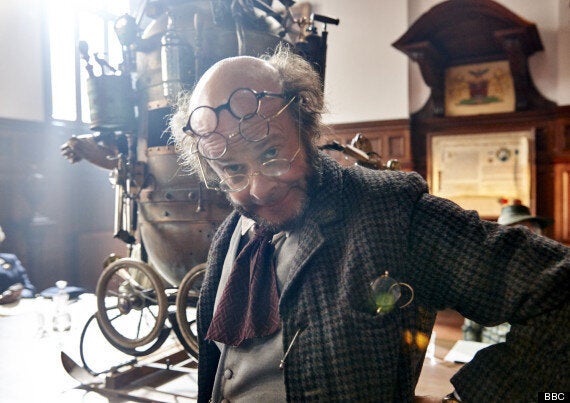 Harry Hill makes his acting debut as Professor Branestawm on Christmas Eve
A good get for ITV, this, with the first network showing of James Bond's 50th anniversary outing that broke British box office records at the cinema. Daniel Craig looking as mint as usual in his designer garb, with many a knowing wink to traditions that have gone before. Don't bother with the final half, however (it's all a bit Harry Potter once they get to Scotland), because meanwhile...
THE INCREDIBLE ADVENTURES OF PROFESSOR BRANESTAWM (BBC1)
Harry Hill makes his straight (ish) acting debut as this nutty professor, from the pages of Norman Hunter's beloved books. While 'TV Burp' is much-missed, a little bit more than his script for the X Factor musical, Harry Hill was surely born to play such a character. The collars are shorter, but the roving eyeballs are unmistakably Mr Hill's. This is a sure gem.
GOGGLEBOX 2014 (Channel 4)
The nation has happily proved its satisfaction in watching other people watching TV, on TV. Here's a roundup of all the best bits of the year gone by.
A film strangely more Christmassy than many a more deliberately festive offering. Bruce Willis in action as a bruised man out to save the world while the bells are a-ringing. Sort of like the anti-Grinch.
KNOWING ME, KNOWING YOU (GOLD)
There's surely no one who likes a celebration more than chat show host Alan Partridge. Tonight sees him putting his hospitality on show with a pair of Hollywood prodigies. Timeless.
FOOTBALL'S FUNNIEST MOMENTS (Sky1)
Football has had a controversial rap this year (FIFA, Ched Evans) so this is a refreshing reminder that, on the pitch at least, there is some nonsense to be enjoyed, even if they do continue to make too much money kicking a ball around.
CARRY ON SCREAMING (ITV3)
If you only watch one Carry On film this year... try this one, with Kenneth Williams at his wonderfully rudest, pithiest, finest, in this parody of horror films. How will you ever be scared again?
Anyone who ever says "we're no better than animals" when observing the great sales run that will no doubt have already started by the time this airs, could learn a lot from this, with these tiny birds desperately helping each other as well as themselves. Gorgeous, feathery viewing.
If Jim Carrey was meant to play The Grinch, then Bill Murray was born for the role of official Christmas-hater Frank Cross. Just because you can see the punchline with a big Christmas bell on it even if you haven't read your Dickens, doesn't make it any the less heartwarming.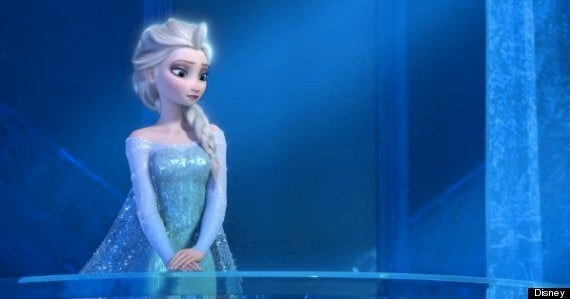 Frozen - the most popular animated film of all time - is on Christmas Day evening on Sky Movies
Antonio Banderas in swashbuckling form as the voice behind the posing Puss, all leather boots and whip, in this frantic Shrek spin-off, that stands surprisingly effectively on its own legs. Lots of jokes for all the family, and the chemistry between Banderas and Salma Hayek as the ladycat of his affections, well, positively purrrrs.
THE NEXT MEGA TSUNAMI (National Geographic)
10 years on from the tragedy that stole so many lives around the Indian Ocean, this programme explores where the next natural disaster might be brewing, and what we can do, if anything, to prevent it in its tracks.
10 short minutes with Her Majesty reflecting on the year behind her, before turning over for...
STRICTLY COME DANCING (BBC1)
Brucie's back, as he promised, for this panto-themed Christmas special, with six former contestants battling it out. Which means... yes, don't worry, Russell Grant will return to the dancefloor.
In officially the most highly-anticipated TV show this Christmas, Peter Capaldi steps once more into the Tardis and jets(?) to the North Pole where he must battle an eclectic group of villains, and make sense of Santa Claus. But, never mind all that, is this Clara's (Jenna Coleman) final outing and, if so, how will she make her departure?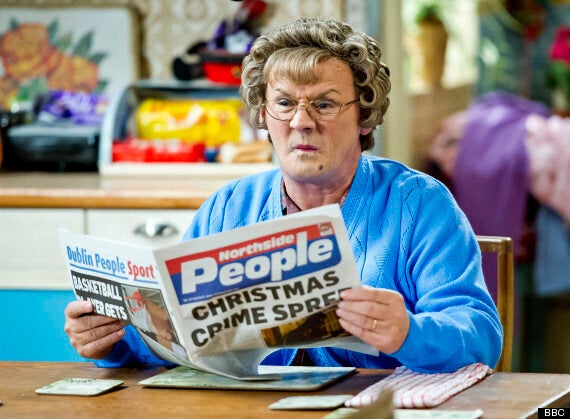 Mrs Brown's Boys was the most popular show on TV last Christmas - will it repeat that this year?
FROZEN (Sky Movies Premiere)
Without a doubt, THE catch of the Yuletide film crop from TV bosses. In what is now the most profitable animated film of all time, Hans Christian Anderson's 'The Snow Queen' gets a full layer of Disney frosting, as sisters Elsa and Anna are separated because of Elsa's scary powers. Altogether now, 'Let it Go'...
In only a few short years, this bunch has succeeded in becoming as central to Christmas Day viewing as bad cracker jokes. This year finds the Crawleys trembling under the 'hospitality' of a barking Lord Sinderby. Worth tuning in, if only to see if Mr Carson and Mrs Hughes forget themselves again after a sniff of port and make merry together.
What will YOU be watching? Let us know below!
With all the money spent on big-budget fare, it's quite sweet that last year's Christmas winner, probably to be repeated again this year, was Brendan O'Carroll in a frock. This year, we can expect some fruity use of one of Cathy's Christmas presents, plus some knowing asides about being sacked from 'Strictly'.
Back by public demand, this is the so-strange-it-has-to-be-true story of Neil Baldwin, played impeccably by Toby Jones, who decided his so-called "learning difficulties" weren't going to stand between him and his idiosyncratic list of life dreams. Required viewing for anyone who thinks fairytales only exist in the world of Disney.
All TV data referred to in this article has been supplied by Virgin Media, which provides access to up to 260+ channels including Freeview Channels, Fox TV, Virgin Movies, Sky Movies and Netflix.
Popular in the Community