Getty Images have covered more than 80,000 events this year and their photographers have brought you some of the most incredible, inspiring and moving images of 2014.
They've been everywhere, from the Scottish Independence referendum to frontline conflicts around the world via flooding, riots and the devastating scenes caused by the the Ebola epidemic.
Photographers often put their life on the line to capture THAT memorable shot to bring the news directly into our homes.
Through the power of photography, pictures are playing an even bigger part in our lives than ever before.
There are images we remember all our lives. They're different for everyone, depending on where you were born and how old you are – for me it's Nelson Mandela, or Princess Diana cradling a child infected with HIV, or the Twin Towers on 9/11 – but we all have them. These images capture something essential about their subjects. Some of them are referred to as 'heart stopping' or 'beautiful', but they're more than that. They're true. The truth of images is what gives them their power and explains why so many go to such lengths to censor or black them out. Today, the job of the person behind the lens has never been more important; it has also never been more threatened.

The barbaric slayings of journalists in Syria are fresh in our minds. The 2011 loss of our own beloved Chris Hondros in Libya still haunts us. The safety of journalists is something Getty Images takes very seriously. At the time of writing, the Committee to Protect Journalists reports that 40 journalists have been killed in 2014. Many others – too many – are missing, exiled or imprisoned. Journalists have worked amid unprecedented surveillance and intimidation this year. Together with other great media organisations and the CPJ, we have reaffirmed our commitment to combatting these trends.

It takes a lot to help the world see itself. Apart from the technical side of their work, photojournalists are experts at building relationships in tough situations, utilising their natural empathy, curiosity and trustworthiness. Whether they are covering hard news in Gaza, the Ukraine or West Africa, documenting the sweaty symphony of sport, or capturing the iconic moments of the world's most famous people, their jobs require a tremendous amount of responsibility. They are some of the bravest people I've ever met.

John Moore is among them. He was one of the first photographers to travel to Liberia to cover the Ebola epidemic there and shed light on the harrowing impact of this disease. It was not easy. He packed 24 sets of coveralls, masks and boot covers, a half-dozen goggles, rubber boots and 400 rubber gloves, some of which he shared with aid workers when their own supplies dwindled. He went to great lengths to document the crisis for the world to see, and it did see. As his images ran in the world's major news publications, people and governments worldwide began to mobilise against the disease. There is no doubt that by risking his life he helped to save others, and I was proud to shake his hand and give him a hug when he came home to New York
Here is just a handful of images showing what Getty and its photographers have achieved this year.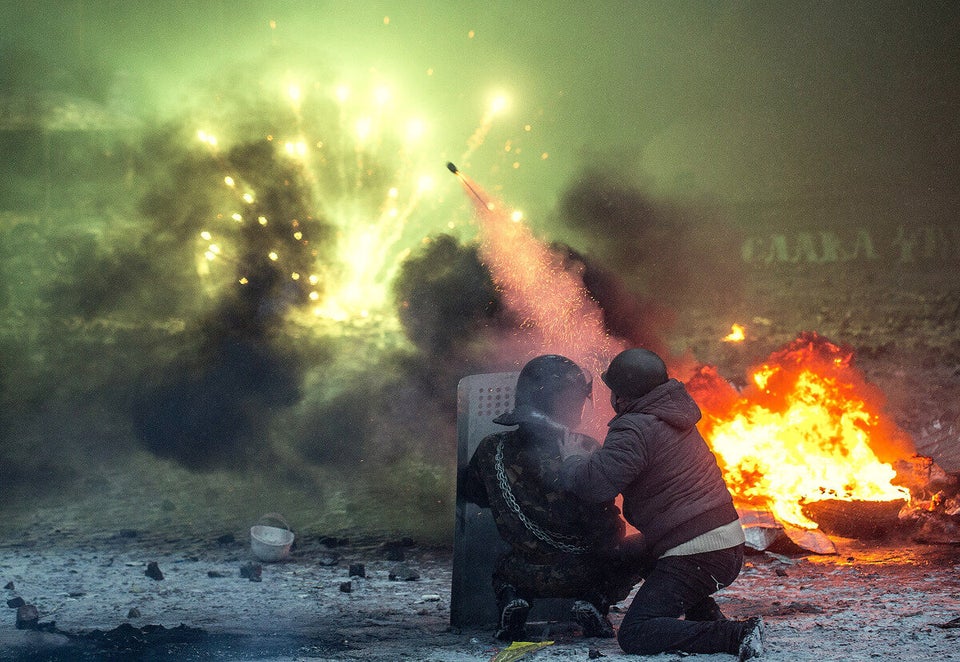 Getty Pictures of the year