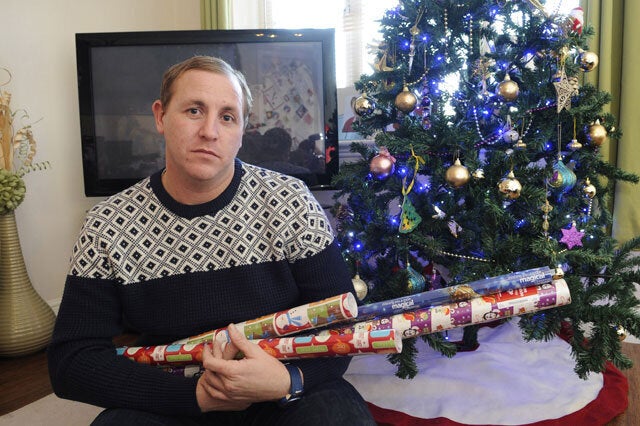 A family's Christmas was ruined by a cashier's mistake, which left them nearly £60,000 overdrawn.
Dad-of-two Dean Baker, 32, nipped out to a Card Factory store in his hometown of Birmingham on 22 December to buy wrapping paper and gift tags.
His purchases came to what he thought was a reasonable £5.94 - however, little did he know that a shop assistant's error had left him almost £60,000 in debt.
"The girl on the till was a trainee," he explained to the Birmingham Mail. "When I first put my card in the machine to pay, she said it hadn't worked and asked me to do it again, so I did. I didn't think any more of it."
The cashier's mistake meant that Dean was actually charged £59,400. Astonishingly, TSB allowed the transaction to go through, putting the family into an eye-watering £52,000 overdraft.
Dean and his wife, Joanne, remained unaware of the blunder until Christmas Eve, when his card was declined when he attempted to pay for lunch.
"I knew I had plenty of money in my account so I couldn't understand it," Dean recalled. When he went to an ATM to check his account, he couldn't believe what he saw - he was apparently tens of thousands of pounds in debt.
The discovery of the huge overdraft and the subsequent freezing of their account threw the family's Christmas plans into disarray.
Instead of enjoying a fresh Christmas dinner as they had planned, they were forced to ask around friends and relatives to pull together a meal as Dean was unable to pay for their food shopping.
Last-minute presents were also off the cards. Dean had decided to buy an iPad for his seven-year-old daughter, Eden, but had to give up the idea when he was barred from accessing his funds.
But the family also had more serious concerns than presents and turkey. "We can't afford to buy food or petrol for the car and we're having to take time off work just to try and sort it all out," Dean initially told the Mail. "I'm appalled. Christmas has been ruined for us."
After the newspaper brought the story to light, however, TSB swiftly corrected the error and unfroze Dean's account, assuring the family that they would not incur any fees over the mishap.
A Card Factory spokesperson acknowledged that an administrative error had taken place, but insisted they had done their best to correct it.
"We became aware of the error on December 23 through our card service provider and acted immediately to initiate a reversal of the transaction so as to ensure that the customer was reimbursed and no bank charges were incurred.
"Unfortunately, we were initially unable to reach the customer directly as we had no contact details. After establishing contact with the customer, senior management have been liaising directly to ensure that they are not disadvantaged by the situation and have apologised for any inconvenience caused."