If you own a pair of leggings or ballet pumps, you have Debbie Moore to thank.
The owner and founder of Pineapple Dance Studios revolutionised fashion by making dance wear mainstream and developing the material that forms many of today's wardrobe staples.
She's also a pioneer in the business sense - in 1982 she became the first woman to float a company on the London Stock Exchange. Oh, and did we mention an OBE and the fact that she's responsible for bringing dance to the masses?
Not bad for someone who quit school at 15 with no qualifications.
We talked to the Manchester-born entrepreneur about dance, divorce, her daughter and how she turned a derelict pineapple warehouse into a global phenomenon.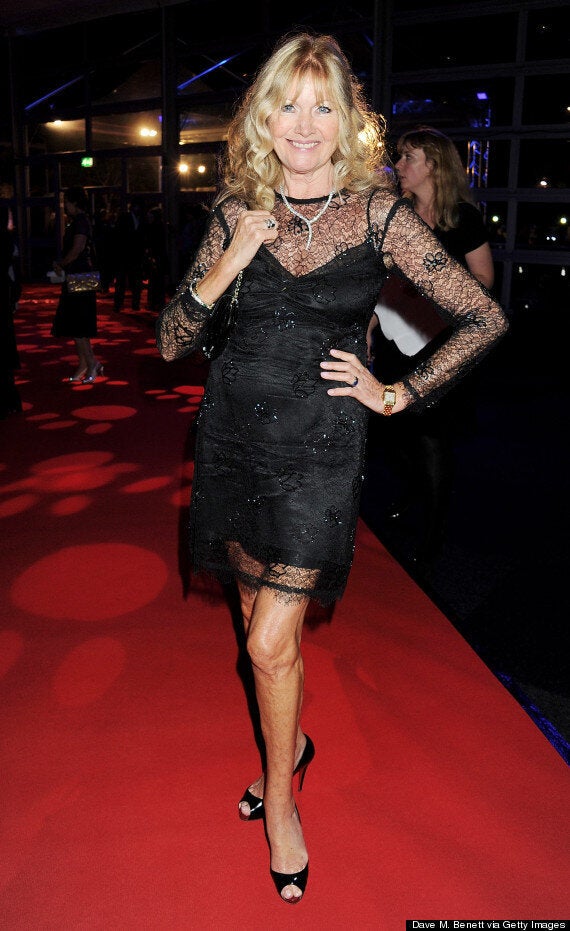 Why did you start dancing?
I won a modelling competition with Honey Magazine when I was 15. One of my first modelling jobs was to go to New York, where I married photographer David Grant.
But when I was 21 he ran off with a 17-year-old. I came to back to London and put on a lot of weight. Doctors said I'd developed an under-active thyroid and I'd have to take medication for the rest of my life. But I went to a homeopathic doctor who recommended dance because it works every muscle in the body and is uplifting.
I started to attend Arlene Phillips' class at The Dance Centre in the mid '70s - there were dancers and actors, the place was packed. I loved it.
Why did you open Pineapple Dance Studios?
The Dance Centre was suddenly shut down and I thought 'I'll just have to open a studio myself.'
My vision was to offer every form of dance to all abilities, from absolute beginner to advanced professional.
Dance is a fantastic form of exercise, and it's fun. I imagined how fabulous it would be if we could break down the elitist barriers around dance and make it accessible for all.
Against all odds we opened in 1979.
What was the biggest challenge you faced when setting up the business?
Picking a derelict pineapple warehouse to turn into a dance studio! I knew it needed to be near Covent Garden so it was near the theatres, but people said I couldn't do it. I said: 'Don't tell me what I can't do, tell me what I need to do in order to make it happen.'
As an ex-model, I didn't have much credibility as a business person. Plus I didn't have any credibility as a woman.
Whatever your politics are, you have to thank Margaret Thatcher for taking women forward. The fact that she was Prime Minister in 1979 when I was trying to grow this business helped me. I think her existence took women into credibility much more quickly.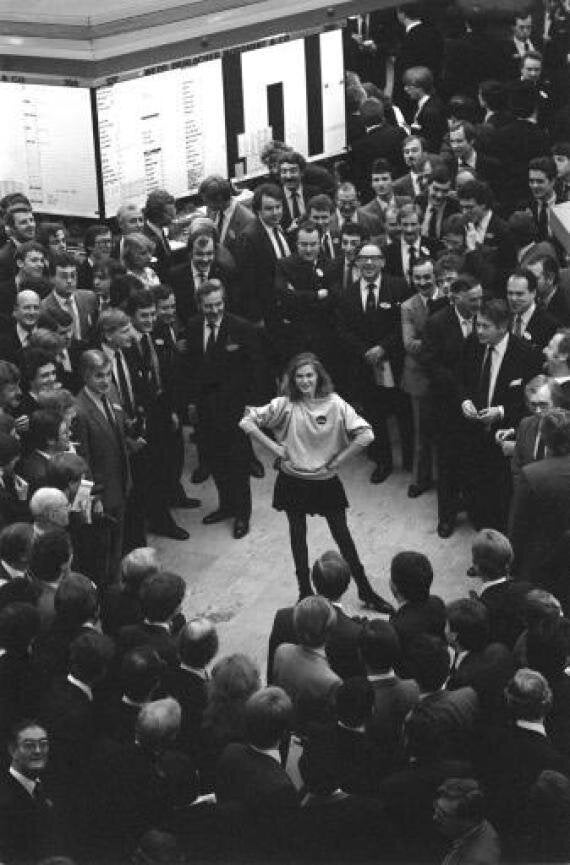 Debbie Moore at the London Stock Exchange in 1982. She took Pineapple back into private ownership in 1988 after raising money for expansion.
Do you believe anyone can learn to dance?
I do, I think it's been proved a bit with Strictly Come Dancing. Anybody can be taught because you just need to feel the music and let go.
For instance, we created a dance DVD for autistic children and some people who do the ballet classes at Pineapple are in their 80s - the teacher is 90, I think!
Pineapple is now a global fashion brand, why do you think it's been successful?
I was a model for 18 years and I used to be a fit model too, which means you go and try the samples on to see how they're made. It gave me a good understanding of production.
I think Pineapple changed the way women dressed. When I started in '79 there was only shiny nylon available for dance wear.
I developed cotton lycra with DuPont and made leotards and footless tights out of the new fabric. Overnight, women started to wear leggings in the street.
The dancers were my inspiration for the clothing brand - they were customising, layering and clashing their clothes.
I loved the ballet pumps but they have suede soles to wear in the studio, so I decided to put outerwear soles on them so we could wear them all the time.
Pineapple now has a license with Debenhams to do womens and childrens wear globally and has licenses with different companies to sell accessories.
Tell us about your average day
I'm basically the landlady at Pineapple. I have 20,000 square ft of studio and 120 teachers that I'm responsible for.
I get to the studio at 8.30am and meet my managing director for a coffee. We catch up on what we're both doing then usually have a meeting.
The meeting might be with Debenhams' buyers about our latest looks for children's clothes or it might be a meeting with some of the teachers.
We've always had an outreach programme with underprivileged kids and we work with the Met with young offenders, so sometimes I'm helping organise that.
Later if there's an audition happening in the studio I go and make sure that's running smoothly.
What do you do in your spare time?
In the evening I might go to the ballet and see Edward Watson who's my favourite principal dancer at the moment. I also go to about two charity events a week.
If I get a spare five minutes I do a dance class - I'm totally allergic to gyms but dance keeps up my stamina and I enjoy it.
Dance is very de-stressing - I think it's because you have to concentrate. I still find I'm going left when everyone else is going right but it's wonderful.
What keeps you motivated?
My daughter Lara. She was six was I started Pineapple but had a spinal haemorrhage when she was 10 - they told us she only had months to live. She's now paralysed and in a wheelchair.
We didn't have the internet to research the condition then - it was hard. Then her father died when she was 15.
I really did rely on my team to keep things ticking along at Pineapple while I devoted my time to her.
If I worked for a corporate organisation I wouldn't have been able to schedule my time myself, but because I had my own business I could take time off to make hospital trips and had the money to pay for the medical care she needed.
It's hard to see your child in so much pain, but you become driven to find the next best thing for them. She's married and nearly 40 now.
I have a house in the South of France that is fully accessible for her which we visit about every six weeks.
What advice do you have for other women starting their own business?
I didn't get any O-levels and I left school at 15, but I found something that I wanted to do.
As I say in my book 'When A Woman Means Business', once you've decided that you'd like to start a business of your own, ask yourself why. Is it simply because you're sick of working for someone else or because you want to make a million?
In both these cases you should think again - working for yourself presents just as many problems if not more than working for someone else. If money is your primary motivation I think you're finished before you start.