Hundreds of demonstrators in three major Swedish cities have rallied in support of Muslims, condemning recent arson attacks against mosques in which at least five people were injured.
Anti-racist demonstrators in the capital, Stockholm, waved placards and a banner with the words "Don't touch my mosque," as Muslim community leaders addressed the gathering preaching tolerance.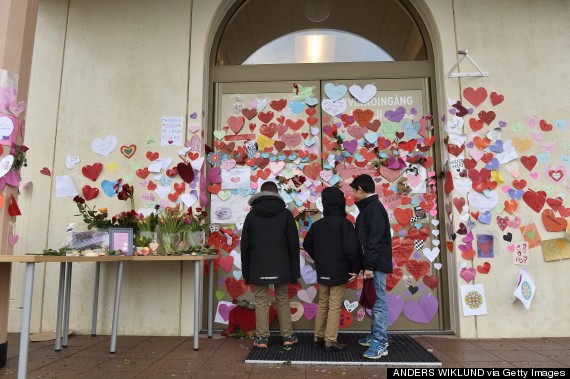 Boys read messages put up on the entrance to a mosque in Uppsala by neighbours pledging their support
In Uppsala, hundreds of red hearts were placed on the door of a mosque after anti-Muslim writing was scrawled on the walls - a show of solidarity with t local Muslim community ahead of Friday prayers. Police are still searching for suspects.
Last week, five people were injured in an arson attack against a mosque in the central city Eskilstuna which was also vandalised a day later.
The Friday rallies, also held in the south-western cities of Malmo and Goteborg, follow a recent rise in anti-immigrant sentiment in Sweden, known for its policies of tolerance in a country where more than 20 percent of the 10 million population has foreign roots.
Sweden's minister for public administration Ardalan Shekarabi said the country needed this type of outreach.
"We're seeing a wave of Islamophobic propaganda," Sweden's minister for public administration Ardalan Shekarabi told local radio. "It's obvious that we have to take a stand against Islamophobia and for the equal value of every person. All people, no matter what their faith, should feel safe in Sweden."