A man from Telford has hiked up a Shropshire hill 365 times in 2014, to raise money for the hospice that cared for his grandmother in the final months of her life.
The equivalent of scaling Mount Everest sixteen times, Timmy Stevens, 26, ascended and descended The Wrekin - a 1335 ft hill in Shropshire - every day over the course of 2014.
The dedicated grandson has now raised over £1,000 in memory of his grandmother, Pamela Perry, who passed away from ovarian cancer in 2011 aged 75-years-old.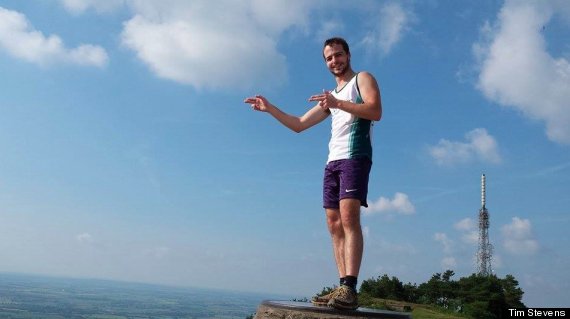 The idea for the challenge came about after the electronic engineer had been training with a friend.
The pair were having drinks in a pub when they decided to try and reach the summit of The Wrekin 365 times in a year, with the money from their efforts going to charity.
"There are many charities that are doing a great job. However, Severn Hospice is very close to my heart due to the care that my nan received in the last few months of her life," Stevens tells HuffPost UK Lifestyle.
SEE ALSO:

Endearing Story Of The Boy Who Has Raised $1m For Best Friend With Rare Liver Disorder

The Christmas Smile Project Gives Gifts To Hundreds Of Children In Need Every Year
Stevens' grandmother, Pamela, battled cancer twice in her life. She was diagnosed with breast cancer in her youth and, following a mastectomy, was given the all clear.
Pamela was then diagnosed with ovarian cancer in 2009.
After diagnosis, she underwent various treatments including chemotherapy. Sadly, the cancer was advanced and her health deteriorated to the point where she required specialist care from Severn Hospice - a charity which offers care and support (free of charge) to people living with an incurable illness.
Story continues below...
"I've really enjoyed my challenge and although it has been a bit tedious, it's for a good cause so it hasn't stopped me," says the 26-year-old.
"The fastest I've completed a run is roughly 21 minutes, but it really depends on the day. It normally takes about 35 minutes, and sometimes I've walked it," he adds.
On some days Stevens had to face horrendous weather conditions and, at one point, a grueling knee injury which set him back. However he persisted with the challenge.
"I injured my ankle back in April. It put me out for a good month. It was difficult catching back up after falling behind," he says. "When you're doing hill repeats in the dark and rain it's not that nice either."
LIKE HUFFPOST UK LIFESTYLE ON FACEBOOK | FOLLOW US ON TWITTER | WE'RE ALSO ON INSTAGRAM
But it was all worthwhile once the challenge was over and the donations for the hospice came flooding in.
Lynn Taylor, who donated after hearing Timmy's story, sums up his achievements perfectly: "Well done Tim. What a fabulous tribute to your nan, she would be so proud."
We couldn't agree more.
To donate to Timmy's Just Giving page, visit https://www.justgiving.com/Timmy-Stevens/.