An Australian woman who husband walked out on her is getting her sweet revenge - by selling his place on a luxury trip to Bali on eBay.
Sarah-Jane Bell had booked a surprise trip for her and her husband in early 2014, but when she returned home one day to find he had left her - she decided to take drastic action and is looking for a new travel partner.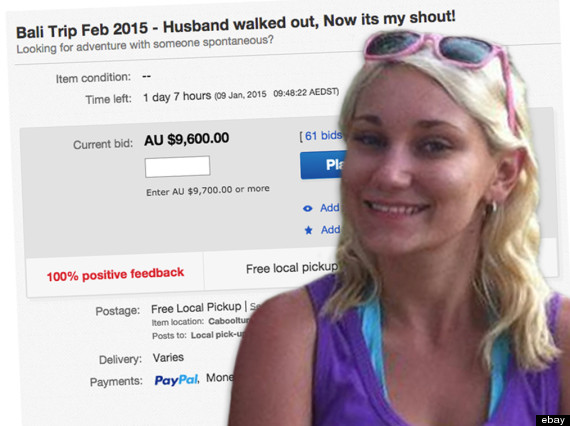 Writing on the eBay listing, she explains: "My husband decided to pack up and call it quits, leaving a note on the bed when I returned from work. The rest is history, and that's why I have opted for the exciting option of none other but to AUCTION the return flight and accommodation with myself right here!"
The listing includes return from Brisbane to Bali flights and a hotel stay. There's no catch, she explains. She just wants a travel companion and someone to make 'everlasting memories' with.
"Please be mindful that this is not a holiday to get sexed up in any way, shape or form," she added. "This is purely platonic. Yes I may be single, however there is no guarantee that anything will come from this trip.
"The life plan I had has been completely turned upside down. All I do know, Is I don't want to live with a life full of regrets."
It isn't the first time we've seen jilted ex-lovers get revenge of late.
Last year, Canadian Jordan Axani sought - and found - a Canadian woman named Elizabeth Gallagher to take a free plane tickets for a round-the-world trip off his hands.
Following in Axani's footsteps was jilted groom John Whitbread, who decided to sell the spare ticket for his honeymoon on eBay after his girlfriend, Amy, called off their nuptials due to pre-wedding nerves.