It's officially red carpet season and we're already counting down the days until the 72nd Golden Globe Awards.




Get the 11 January down in your diary because watching the ceremony from your sofa really is as good as being there for real.

Not only are Tina Fey and Amy Poehler hosting for the third and final year but Jennifer Aniston, Rosamund Pike and Reese Witherspoon are in the running for Best Actress.

MORE: Golden Globes 2015 nominations

You know what else would make this year's ceremony really unforgettable? Any one of these six things...

1. Flatforms on the red carpet.
The Spring/Summer 2015 catwalk scene went into flatform frenzy. We'd love to see how the stars pair theirs with a glitzy couture ensemble.




2. Someone presents an award really, really drunk.
The moment Emma Thompson took to the stage Christian-Louboutin-Martini-in-hand to present the award for Best Screenplay last year? Best thing ever.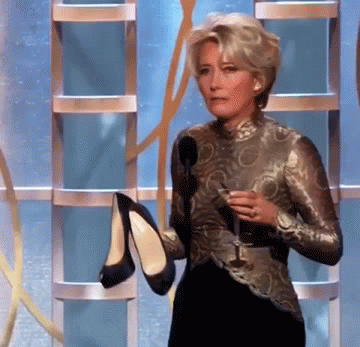 3. No black dresses.
The 2014 red carpet saw a lot of noir. Everyone from hostess Amy Poehler to Kelly Osbourne, Cate Blanchett and Jessica Chastain opted for the shade - but imagine if this year it was a big no, no. Marsala is the colour of 2015 and we want to see lots of it.





4. A braid-off.
Braids were hot on the Marissa Webb, DKNY, Peter Som and Giorgio Armani S/S 2015 runway scene - the messier and more intricate the better. The gelled down baby hair thing too.




5. A nominee pulls a scarier face than Jessica Chastain.
Jessica Chastain raised the bar last year, so get set to see some amazing Twitter and Instagram action.

The group selfie we're rooting for? Benedict Cumberbatch doing 'Shake It Off' by Taylor Swift with Keira Knightley, Claire Danes, Jennifer Aniston and Meryl Streep. #YOLO