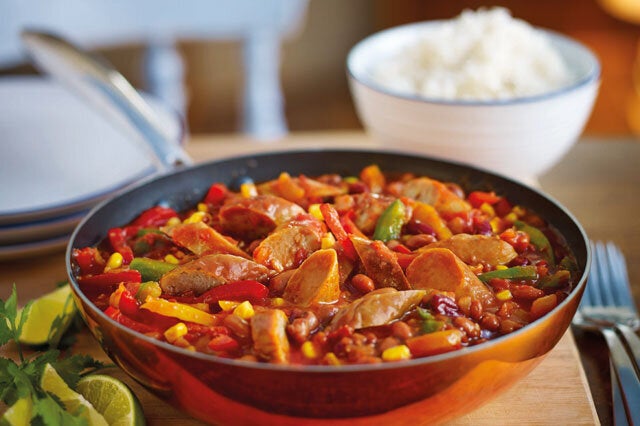 Mexican sausage and bean chilli with rice
This chilli con carne recipe uses sausages instead of beef mince and makes a mouth-watering alternative to the classic version.
The recipe calls for frozen ingredients, but feel free to swap in fresh if you have them to hand.
1/2 x 600g pack pork sausages
200g chopped onion (frozen or fresh)
2 tsp chopped garlic (frozen or fresh)
250g frozen mixed peppers
420g tin mixed beans in chilli sauce
390g carton Italian chopped tomatoes
2 tbsp spicy chipotle paste (optional)
20g British mature Cheddar, grated
1. Preheat the grill to medium and grill the sausages to pack instructions for 15-20 minutes, turning frequently until golden brown and cooked through. Remove and slice on the diagonal.
2. Meanwhile, heat the oil in a deep frying pan over a medium heat. Add the chopped onion and garlic, turn up the heat and cook, stirring occasionally, for 3-5 minutes until the onions are turning golden and the liquid has evaporated.
3. Next, put the peppers in a microwave-safe bowl, cover with cling film and heat on high for 2 1/2 minutes. Drain well. Set aside.
4. Add the mixed beans in chilli sauce, chopped tomatoes, chipotle paste (if using) and sweetcorn to the onions in the frying pan, bring to a gentle simmer and cook for 10 minutes. About 2 minutes before the end of the cooking time, stir through the drained peppers.
5. Just before serving, stir the cooked sausages through the spicy sauce. Serve the chilli with rice and a sprinkling of the grated cheese.