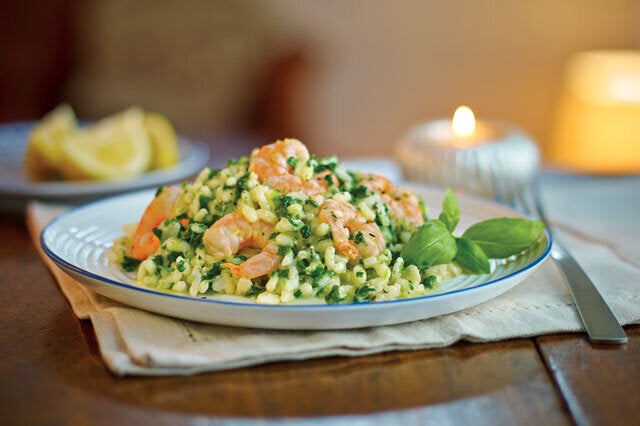 Prawn and spinach risotto
A quick risotto that is full of flavour. It's partially cooked in the oven to cut down on all that stirring. The recipe calls for frozen ingredients, but feel free to swap in fresh if you have them to hand.
100g chopped onion (frozen or fresh)
2 tbsp chopped garlic (frozen or fresh)
850ml hot vegetable stock
225g frozen raw peeled jumbo king prawns
150g frozen chopped spinach
A squeeze of lemon, plus wedges to serve
1. Preheat the oven to 200/fan 180/gas mark 6. Heat the oil in a flame-proof casserole dish, add the onion and cook for 3 minutes. Add the garlic and cook for a further 2 minutes.
2. Add the rice, stir to coat in the oil and fry for a couple of minutes. Add 800ml of stock, cover with a lid and bake in the oven for 15 minutes.
3. Remove from the oven and transfer back to the hob. Stir in the frozen prawns and spinach and cook for a further 7-9 minutes, stirring continuously, until the prawns are cooked through and the rice is cooked to your liking. Add the remaining stock halfway through.
4. Squeeze in the lemon juice and season generously with freshly ground black pepper. Serve with lemon wedges.