'Downton Abbey' actress Joanne Froggatt pulled off a surprise at the Golden Globes, taking home the award for Best Supporting Actress in a TV series from a pretty impressive field.
READ ALSO:
All The Winners From This Year's Golden Globes - Complete List
Not only that, but she took the opportunity of her acceptance speech to address the subject of rape that had been her character's central storyline throughout the past two series.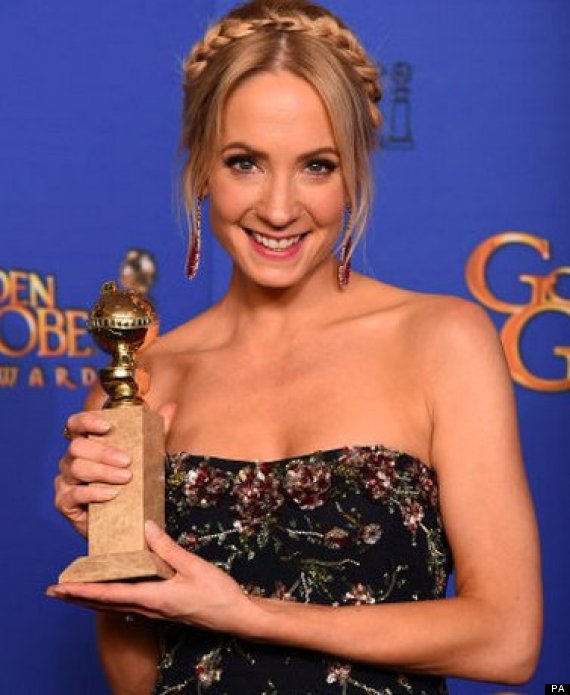 Joanne Froggatt was delighted but shocked to win her first Golden Globe
Joanne beat actresses Uzo Aduba, Kathy Bates, Allison Janney and Michelle Monaghan to win, and told the audience:
"This is the most shocking moment of my life. I just had a wonderful moment meeting Kathy Bates, thank you for being so generous.
"I've received many letters from survivors of rape, and one told me she wasn't sure why she'd written, but she just wanted to be heard." Joanne paused. "I heard you."
'Downton Abbey' fans had watched Joanne's character struggle for the past two series with the aftermath of a violent rape, keeping it from her husband, and later being charged with the murder of her attacker.
Joanne was Downton's solitary winner on Sunday evening, with the show itself losing out to 'The Affair' in the Best TV Series category. But it was in good company, with 'House of Cards', 'Game of Thrones' and 'The Good Wife' all coming away losers in the same category.
Ruth Wilson was another surprise Brit, taking Best Actress in A TV Drama for her role opposite Dominic West in 'The Affair'.
The 'Luther' star said it eased her disappointment after losing out the previous occasion she was nominated.
LIKE US ON FACEBOOK | FOLLOW US ON TWITTER