Fancy kicking off the New Year with new tech? Look no further, because we've teamed up with Microsoft to give away a Nokia Lumia 830 (worth £289.99) and a bluetooth mini wireless speaker (worth £27.74).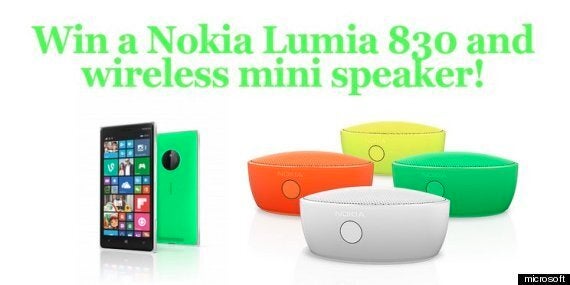 The Lumia 830 packs a 10MP camera to capture high-quality photos with Living Images, a feature that makes your photos come alive with seconds of video recorded with each shot. The smartphone also boasts built-in wireless charging and a striking design!
The 5inch screen is the perfect size for streaming videos or finishing off important documents with the inbuilt Microsoft Office.
And with 15GB free OneDrive cloud storage included, you can sync your media and documents across all your Microsoft devices making them accessible on the go.
The Lumia 830 comes with Windows Phone 8.1, which provides you with your own virtual personal assistant, Cortana, there to help you keep on top of things and make life a little easier.
Along with the powerful MD-12 compact Bluetooth speaker, you can enjoy free and personalised mixes of your favourite music with Lumia's free music service MixRadio – available on and offline!
To be in with a chance to win these great prizes, fill in the online form by 19/01/2015.