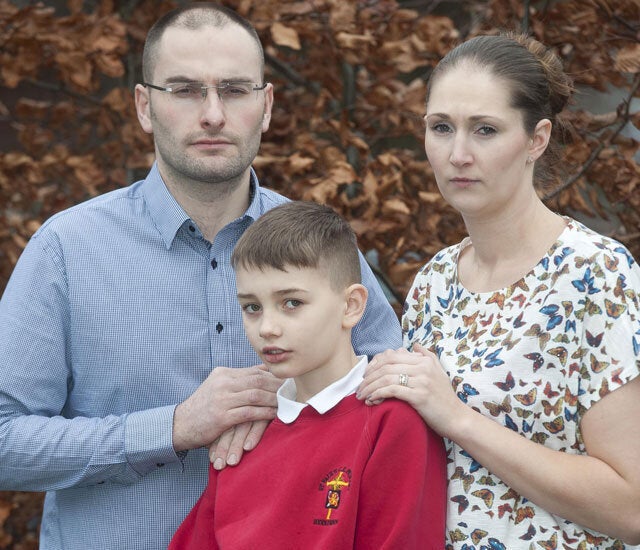 A schoolboy has been banned from classes because his short back and sides hair style is too long.
Nine-year-old Billy Eddleston, from Darwen, Lancashire, has been sent home for three days running because his head teacher says his 'extreme haircut' is too long on top.
Bernadette Bickerton, the head of Hoddlesden St Paul's CE Primary School, said: "Billy has not been [permanently] excluded from the school and we hope to see him back in class as soon as possible so any disruption to his education is kept to a minimum.
"Both parents and pupils are made aware of our high expectations and aspirations before they choose the school and we have a very clear uniform policy."
But Billy's mum Connie Eddleston, 30, branded the decision a 'disgrace'.
She told her local paper: "Billy has had the same haircut, in varying lengths, pretty much his whole life.
"I feel like Billy's been victimised, and he feels picked on. I feel like the school is failing my child.
"It won't stop him learning. If he gets it shorter he'll look like a thug. He's losing out on his education."
The school's prospectus states: "Shoulder length hair must be tied back. We have a no extreme or 'current trend' hair policy at our school. Plain red headband/headwear for girls and no hair gel for girls or boys."
Despite this, Billy has not been allowed to classes and it is still unclear whether he will be able to attend on Monday morning.
Billy, who also lives with his dad, John, 33, and brother Edward, two, said: "I feel like the school are bullying me. There are other boys with the same hair design and they are allowed to stay."
Connie is to meet the head teacher and governors this week to discuss the matter further.