Nintendo has announced that its rebooted 3DS and 3DS XL consoles will arrive in the UK starting 13 February.
The snazzy new machines come with a C Stick, ZL/ZR buttons, "super-stable" 3D with face-tracking technology and built-in NFC for using Nintendo's new Amiibo figures.
The 3DS version has a larger screen than the predecessor too.
The 3DS XL comes in black or blue, while the 3DS comes in black and white, with the addition of new cover plates to customise your device.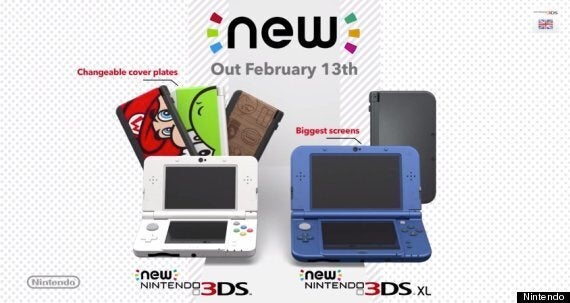 Nintendo said that both machines have faster processors - though that will only boost download speeds and Miiverse, as well as software transitions.
In a 'Nintendo Direct' live-streamed press conference the Japanese gaming giant also announced a new Fire Emblem game for the 3DS, unveiled new details about Code Name: S.T.E.A.M, Splatoon, and Mario Party 10 for Wii U and said that original Wii games will now be available to download for the living room console.
Watch the full Direct below.