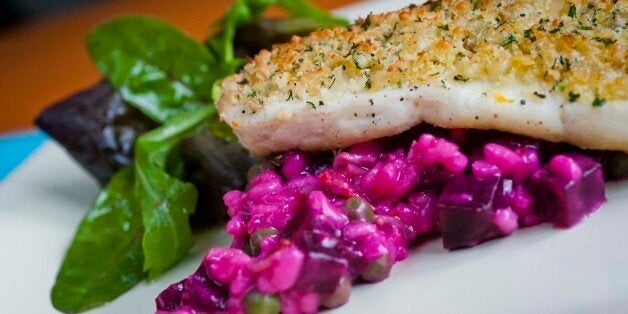 After a busy week at work, the last thing you want to do is spend hours slaving away in front of a hot cooker.
So, to help you prepare some healthy no-fuss food, Seafish have shared three quick and easy fishrecipes, which are not only rich in omega-3, but will also help boost brain power, look after your heart and give you the energy you need to get active this January.
From gremolata crusted halibut on beetroot risotto to a warming fish stew, each tasty dish will take under 20 minutes to make. Plus they'll do you the world of good and taste awesome too. We're sold.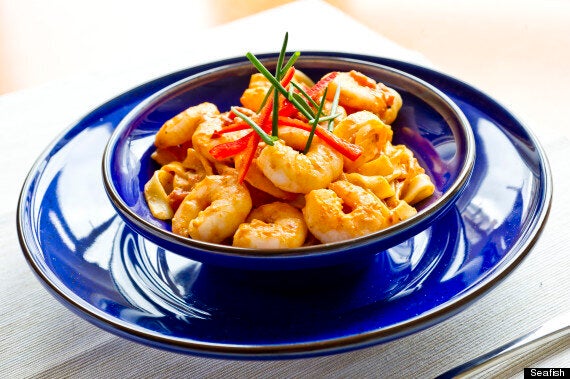 Cooking time: 13-15 minutes
350g cooked frozen or chilled tiger prawns (defrosted if frozen)
4 tsp Thai red curry paste
400g canned chopped tomatoes
100g Sweet Chilli Light Philadelphia
Snipped chives and finely sliced red chilli (optional), to garnish
1. Cook the tagliatelle in boiling water according to packet instructions.
2. Whilst the pasta is cooking, heat the oil in a pan and add the prawns. Cook for 3-4 minutes.
3. Once cooked, add the curry paste and tomatoes and cook for a further 3-4 minutes. Stir in the soft cheese and heat through until you get a creamy consistency.
4. Drain the pasta and add to the pot with the prawn sauce. Mix well and serve hot, garnished with the chives and chilli (if using).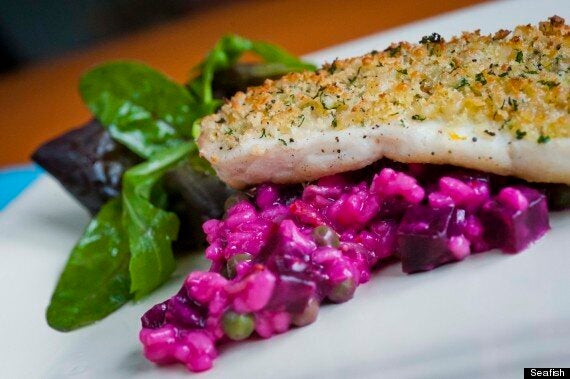 Cooking time: 13-15 minutes
2 portions of halibut fillet
2 precooked beetroot (diced)
350ml (approx) of chicken stock
1 clove of garlic (chopped)
A handful of fresh breadcrumbs
Half a clove of garlic (crushed)
Zest of half a small lemon (grated)
1. To make the Gremolata, mix all of the ingredients together.
2. For the risotto - sweat the shallot and garlic along with the bacon for 2 min in a little oil, add the rice and cook gently for 1 min.
3. Add the white wine and reduce over a high heat, next begin to add the hot stock a ladle at a time to the rice, stirring continuously and allowing the rice to absorb the stock after each addition.
4. When the rice is just cooked (al dente) add the peas and beetroot to warm through.
5. Finish the risotto with a few knobs of butter and scatter some grated parmesan on top.
6. The halibut should be grilled on both sides, then sprinkled with the gremolata. Drizzle a little olive oil on top and place under the grill until the topping is golden. Serve with the risotto and some salad leaves on the side.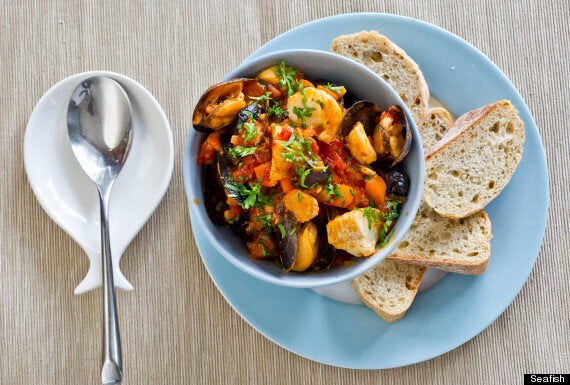 Cooking time: 16-20 minutes
550g skinned and cubed whitefish fillets (cod, coley, pollock, hake)
1 x 397g can peeled chopped tomatoes
Chopped parsley to garnish
1. Peel the carrots and cut them into sticks. Slice the onion and crush the garlic.
2. Heat the oil in a saucepan and add all these ingredients, then cook for 2-3 minutes.
3. Stir in the tomatoes, olives and bay leaf, and season to taste.
4. Add the fish and cook for another 8-10 minutes.
5. The mussels go in last and need about 2-4 minutes to heat through.
6. Sprinkle on the chopped parsley and serve with lots of crusty bread.
Seafish have shared these recipes as part of their Fish is the Dish campaign, which aims to encourage the consumption of omega-3 rich oily fish and inspire people to get their two recommended portions a week.