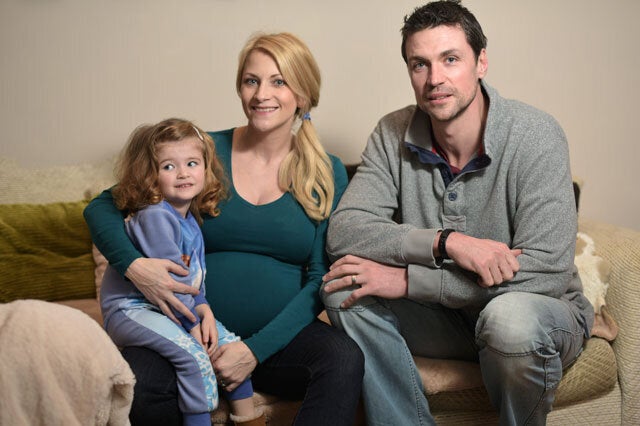 PregnantOlympian Jaime Halsey has been advised to abort two of her triplets to save the other's life – but she's refused.
Former trampolinist Jamie, 35, is expecting triplets with her rugby star husband Steve.
But doctors have told them the odds of all three babies surviving is 50/50 after a 12-week scan showed one of the babies was 25 per cent smaller than the others.
Specialists at John Radcliffe Hospital in Oxford advised Jaime to terminate two of her babies because they could cause serious risk to her health.
But the couple, from Abington, Northampton - who have already have a two-year-old daughter, Flo - are determined to bring all three babies into the world to join their 'happy family'.
Recalling the moment she was advised to abort two of her babies, Jaime told her local paper: "My initial emotional reaction was 'I can't do that, I will keep them all and carry on with the pregnancy whatever'.
"Steve was much more logical wanting to know what the risks were to me but collectively we made the decision we would give the three babies the best opportunity we possibly could to come into the world.
"Other people have triplets and I wasn't prepared to abort two healthy babies just to make life easier.
"As sport has taught us both, all you need is a chance, positivity and the faith of others in your ability to be a success."
Jaime, who was Team GB's first female trampolinist at the 2000 Sydney Olympic Games, married the former London Welsh rugby player in 2009.
The couple began trying for another baby in spring last year after daughter Flo began asking for a sister.
When she became pregnant scans revealed she had two monozygotic identical twins and one 'singleton' in her womb.
Consultants told them twins sharing a placenta are at risk of twin-to-twin syndrome of Intrauterine Growth Restriction (IUGR).
The fact she is expecting three babies makes her pregnancy particularly high-risk and even more rare and complicated.
Jaime is now 26 weeks and has been told she will have to deliver the triplets, all believed to be girls, by Caesarean.
The mum, who now coaches and runs a cake business, said: "If this was my first pregnancy I would be terrified, but seeing how ace Flo is makes me confident we can do this.
"Now the panic has gone, we can be excited about our big family and noisy house.
"I am determined to make this happen. I could not live with myself if I sacrificed two of them - to save one."