A six-year-old girl who was so upset about her dad missing her bedtime has written to the train company which is causing the delays.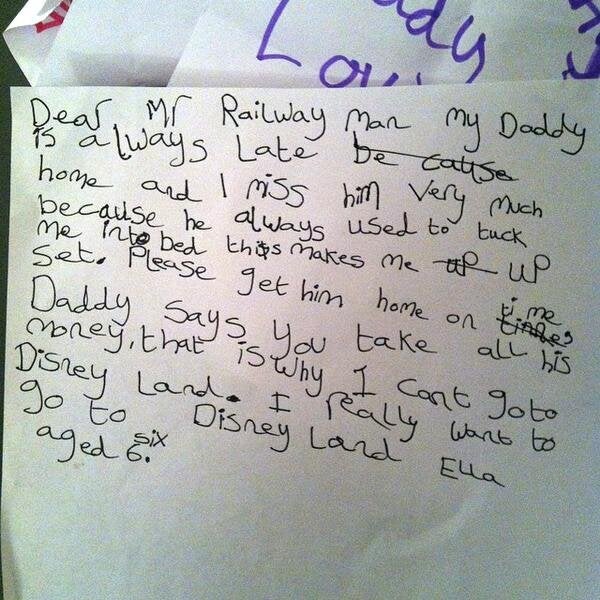 Ella Porter's dad Neil is constantly late home from his work as a graphic designer in London due to late running trains home to Uckfield, East Sussex.
If the train network ran on time, Neil would make it home most evenings to read Ella a bedtime story and tuck her in.
But, naturally, this just doesn't happen. Instead, Neil misses bedtime, and seeing his daughter.
And, as it turns out, the company actually has a heart!
Neil tweeted the letter to the train company's official account, and they replied, saying: "Really sorry for the disruption caused to you. Genuinely has got me welling up. I'm sorry."
Probably not sorry enough to actually sort out the delays, of course, but you just can't have everything when you're paying £4,000 a year to travel...
Speaking to the Metro, Neil explained Southern had also been in touch with him directly, and told him to 'watch out for the postman'.
"I just want to get home and see the children before they're asleep," said Neil. "Ella felt so strongly about me not being there that she took to pen and paper and vented her frustration in the sweetest way.
"If Southern Rail can stick to their schedule, maybe I'll be able to get some quality family time."
We'll keep you posted if Ella does get her trip to Disneyland (which we reckon will go down a treat with the other thousands of commuters using the network...).