The arrival of Windows 10 will be a global event, and we don't just mean that in terms of hype. It quite literally will affect most of the computers on the globe.
With over 56 per cent of computers in the world still running the now outdated Windows 7, Microsoft wants to bring everything back under one roof.
Here's what we know about the release date, price and everything else so far.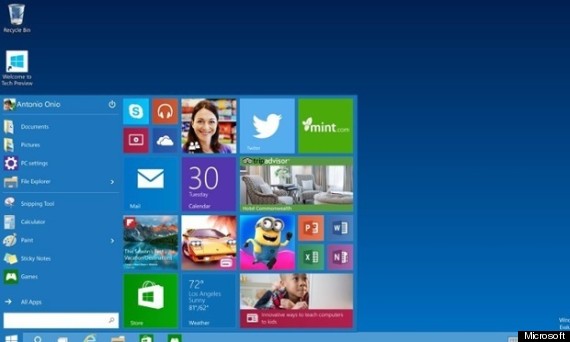 What's the latest?
At a press event Microsoft announced on Wednesday:
Windows 10 will be a free upgrade.
Cortana comes to PC and Tablet. The Cortana personal digital assistant will now be available on Windows 10 PCs and tablets to support people and help them get things done.
A new web experience for Windows 10. "Project Spartan," the next generation browser offers the ability to annotate with keyboard or pen and share with friends, distraction-free reading mode and integration with Cortana to put the web to work
Xbox on Windows 10. Stream games directly from your Xbox One to Windows 10, play games with friends across devices and experience great graphics built using DirectX12.
Office for Windows 10: Office universal apps on Windows 10 deliver a consistent, touch-first experience across phone, tablet and PC. We'll have more to share on the next version of the Office desktop suite in the coming months.
Why is Microsoft bringing out a new version of Windows?
For one thing, Microsoft wants to be 'cool'. It's bored of seeing Apple's MacBook dominate urban coffee shops and it's tired of watching Googlers cycle around San Francisco.
But more than that - much more - Microsoft wants to be good.
If you look back far enough you'll see that Windows 10 is the cornerstone of Satya Nadella's plan to reinvent the company. From Windows Phone 7, to the Xbox One, Microsoft is now evolving its products based on what we want, not what they want.
We hated the fact that Windows 8 was full of huge tiles, ditching the desktop-based system that has dominated all consumer computers since post-DOS. But more importantly, we couldn't use it. Customers just didn't get Windows 8.
In response Microsoft has slowly and methodically moved away from its initial concept. Windows 8.1 made the transition from 'Metro' (as it was once known) to the desktop more obvious and easy. But it's happening elsewhere too. Just look at the Xbox One. The Xbox 360 was once a games-only interface. Over the course of almost a decade it evolved into pseudo-Windows. The Xbox One? Actual Windows.
This gathering cohesion and clarity is what Windows 10 is all about.
What Will Windows 10 Look Like?
On certain devices - like tablets - Windows 10 looks largely the same as Windows 8 in terms of design. The 'Metro' design language was debuted by Windows Phone and has remained there appearing in every Microsoft product since.
The changes will be most apparent when you turn it on -- because with Windows 10, you'll go straight to the desktop. That's right, your old friend is back, but more Windows-y than ever.
Instead of the tiled-based home screen, Windows 10 will integrate these tiles into the iconic Start Menu. Click Start and you'll be presented with a hybrid of classic app lists and live, constantly updating app tiles that can show anything from the weather to latest news headlines.
These tiles will be your favourites collection, direct links to games, apps and documents that you can 'pin'. You can transition to the tile-based screen if you want - especially on tablets like the Surface Pro 3 - but you'll retain control about how and why that happens.
Will Windows 10 Feature New Apps?
Windows 10 will feature redesigned versions of almost all the major applications with the biggest change coming to Internet Explorer. That change there... is that it'll be gone. Microsoft is finally killing Internet Explorer in favour of a streamlined, Safari-rival that it's calling Spartan.
Spartan is an internal name, but considering the fact they've called their voice assistant Cortana, we wouldn't actually be so surprised if the name stuck.
By ditching the IE, Spartan is a much cleaner app with an all new visual engine so in-browser gaming will be faster while social sharing will be built straight into the experience. Naturally it'll look exactly the same across all devices.
Offline reading is now included as standard so just as you would add articles to your 'Reading List' or to the Pocket app, you can now add articles to offline and then read them back on your phone.
Finally, your Windows 10 apps are your Windows Phone 10 apps. They're one and the same. As you move across devices or change the way you're using your device, the apps will adjust to fit, whether it's for touchscreen use or for using Microsoft's HoloLens display.
Will I Be Able To Play Games On Windows 10?
Yes. Gaming is a big part of Windows 10. After years of grumbling from the gaming community, Windows 10 will be getting the bespoke Xbox treatment.
The Xbox App is your window to your games, whether they're games you play on your Xbox One, or Surface or PC. In a major step, the company is opening up this app to outside provider as well so it doesn't matter if you bought your game through Steam or Origin, they'll both now be a part of the Xbox Hub.
Windows 10 now comes with the ability to record and share gameplay, something that first debuted on the Xbox One but has now been brought over to the PC. You'll be able to record and share any game, again it doesn't matter if you bought it from Steam, the Xbox games store, Microsoft isn't picky.
Finally, Microsoft is taking on PlayStation's RemotePlay feature with game streaming. With Windows 10 you'll be able to start playing a game on your Xbox One and then carry on playing on your tablet, phone or PC.
How Will I Use Windows 10?
With a keyboard and mouse, stylus, voice or your hands. Where Windows 8's design was dictated by touchscreen, Windows 10 will adapt, changing its design to suit the input you've chosen.
'Cortana' will be integrated right into Windows 10, so straight from the start you don't even have to use your hands, you'll just be able to talk to your computer. With Siri still constrained to iOS, Microsoft will have gained a crucial point in the battle against Apple's ecosystem.
Imagine having a Windows 10 hybrid laptop. You'll start using it with the conventional keyboard and mouse layout but detach the screen and it'll instantly change into the touch-friendly tile layout that was perfect for tablets.
Called 'Continuum', this feature will drastically increase the ease of use for Windows 10, giving you control over how you want it to look and how you want to interact with it.
What is Microsoft HoloLens?
HoloLens is Microsoft's entry into the world of augmented reality, except that it's so much more powerful than that. Imagine the visual fidelity you get with Oculus Rift, and then combine it with real life.
Essentially, the HoloLens is able to project holograms onto real-life. When we say holograms we don't just mean cute dinosaurs running around the floor. Instead we're talking about an entirely virtual world is superimposed over real-life.
You'll be able create your own virtual working space as Windows 10 has been built from the start to work as 3D operating system. Throwing apps around your room will become as second nature as seeing the surface of Mars replace your living room carpet.
The best thing about it? It's not science fiction, in fact people were able to try it out after the press conference. Microsoft says it plans to release HoloLens within the lifetime of Windows 10 so while it could be a couple of years, that's no longer than waiting for the next Marvel film.
Can I Use It On My Tablet?
Yes. Windows 10 is one operating system that'll run across multiple devices so rather than having the confusion of Windows and Windows RT, this will just be one Windows 10 that'll work across everything.
Can I Use It On My Phone?
The next version of Windows Phone won't be called Windows Phone 9, it'll be called Windows Phone 10. Microsoft is determined to bring all its devices together, whether that's on a smartphone, tablet or desktop.
When Will I Be Able To Download Windows 10?
Windows 10 doesn't have an exact release date just yet but industry analysts believe that Microsoft will aim for a 2015 release, so expect it to be in consumers hands by the end of the Summer and into the hands of businesses by the end of the year. There will be another preview starting in February too.