Watch episode three of Feasts on the Street, the online series where 3 teams compete to become Asian street food entrepreneurs in time for Chinese New Year - and learn yourself how to make quick and easy Prawn Lo Mein Noodles.
Adding prawns to your midweek menu is an easy way to get a low-fat dose of protein, as well as plenty of nutrients like Omega-3 oils and vitamin E (did you know prawns have 22 times more vitamin E than beef?).
The key to Amoy's tasty and easy prawn Lo Mein recipe lies in the noodles: Amoy Straight To Wok Thread Fine Noodles. While people often believe that the main difference between Chow Mein and Lo Mein noodles is in the type of noodle used, it's actually in the preparation.
Lo Mein, meaning "stirred noodles," is traditionally prepared by tossing noodles together with the sauce rather than stir frying them (they are only added to the wok at the end of the cooking process). The world's oldest noodles derived from China, not Italy, and influenced how other cultures incorporated the meal staple into their cuisines.
In China, noodles have the symbolic meaning of longevity and are served on birthdays and during the Chinese New Year celebrations. Traditionally, noodles are made as long as possible to ensure a long life, and it's considered bad luck to cut them up.
Lo Mein noodles are also recognisable by their Japanese name, that impoverished uni student staple: ramen.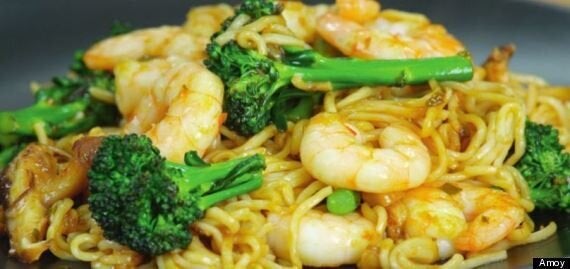 Check out Amoy's recipe for prawn Lo Mein stir fry below - make like a chef and use Ching-He Huang's advice to give this dish an extra pop of heat with a sprinkling of dried chilli flakes. You can also try tossing sliced spring onion in with the prawns for a fresh, oniony kick.
Prawn Lo Mein Noodle Stir Fry
Preparation Time: 5 minutes
1 tablespoon sunflower oil
2 garlic cloves, crushed, peeled and finely chopped
1 inch piece of fresh root ginger, peeled and grated
6 (100g) fresh shiitake mushrooms, sliced (other mushrooms
100g tender broccoli stems, sliced into 1 inch pieces
1 packet Amoy Chow Mein Stir Fry Sauce
2 x 150g packs of Amoy Thread Fine Noodles
150g cooked large black tiger prawns
1 tablespoon Amoy Dark Soy Sauce
1. Prepare the vegetables.
2. Heat a wok over high heat. Add the sunflower oil, swirling
to coat the side of the wok. Add the garlic and ginger
and cook for 30 seconds, stirring quickly to release their
aroma. Follow quickly with the mushrooms and broccoli.
Cook, tossing, for 40 seconds.
3. Add the Amoy Chow Mein Stir Fry Sauce and Amoy Thread
Fine Noodles and stir together. Add the cooked tiger prawns
and continue to toss gently to fuse together the flavours.
Finally, season with a splash of Amoy Dark Soy Sauce.
Take off the heat. Ladle and divide between serving plates,
garnish, and eat immediately.
Watch Ching-He Huang whip up this quick and tasty prawn dish here: