Matthew Carpenter decided to start the site as a light-hearted endeavour - and so with nothing more than a normal PayPal account and some pithy copy, the 22-year-old accidental entrepreneur was left entirely overwhelmed when his idea became the number one distraction on the internet for 24 hours.
Needless to say a few days after the site launched, Carpenter realised that he'd perhaps bitten off more than he could chew and released a statement via Product Hunt begging users to stop using his 'service'.
"Hi guys, I'm the founder of this website. Please stop buying this horrible glitter product — I'm sick of dealing with it. Sincerely, Mat."
Now at least there's been a happy ending...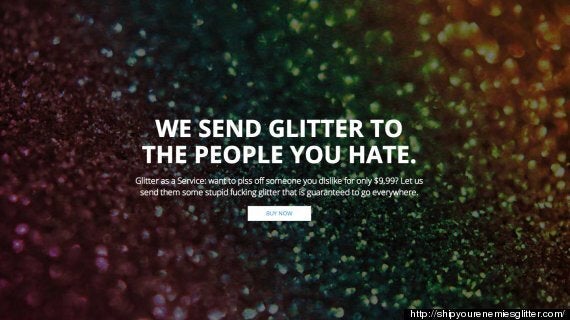 Ship Your Enemies Glitter was sold on Flippa, which specialises in entrepreneurs trading start-ups and domain names.
The buyer was initially anonymous, but is now reported to be Peter Boychuk, an online entrepreneur.
Boychuk said: "I'm extremely excited to be the new owner of ShipYourEnemiesGlitter.com. There's huge opportunity for growth with this business and I certainly plan on taking advantage of the attention it has received."
Boychuk added he will honour the 10,000 orders already taken on the site.
Carpenter said the business should be easily profitable - considering he took in $20,000 in sales, 1.6 million mentions in Google and 2.5 million visits in the first few days.
"After being launched on January 12th of this month it has seen over 2,500,000 visitors, received over 415,000 mentions on Facebook & Twitter & has been featured all over the world both online, in print, on the radio, on TV & even on late night talk shows. After being online for only a few hours, the website had received over 2,000 orders generating just over $20,000AUD. Somewhat overwhelmed, I then decided to take the ability to order down despite receiving thousands of emails & tweets from people wanting to purchase."
'Ship Your Enemies Glitter' resonated with the public with its no-nonsense and NSFW approach to a product that almost everyone universally hates.
The website intro starts '"We fucking hate glitter," and continues along a similar vein saying, "People call it the herpes of the craft world. What we hate more, though, are the soulless people who get their jollies off by sending glitter in envelopes."