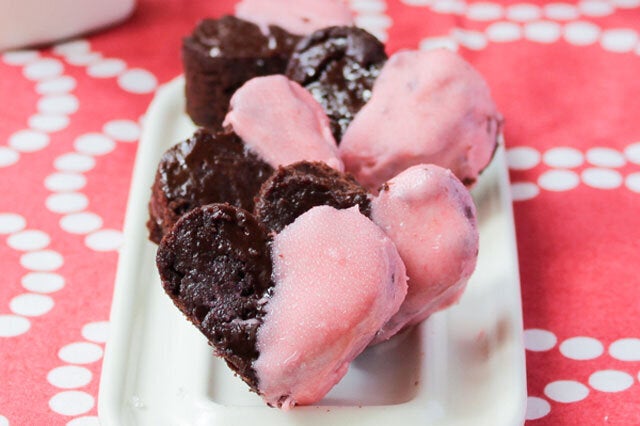 World Nutella Day (5 February) was started a few years ago and I am finally able to participate! What better way to celebrate Nutella than in delicious, ridiculously moist Nutella brownies?
Simply put, you have to try these brownies. It took my regular brownie recipe way over the top with just a small addition of Nutella. The brownies were even more chocolatey, creamier and decadent.
And, of course, the addition of being dipped into white chocolate was definitely a plus for me. That makes it perfect for Valentine's Day! (see what I did? 2 posts in 1).
Make these. For yourself, for your significant other, for World Nutella Day! P.S. If you make it over and over, I won't tell anyone.
Makes: 20 small heart-shaped brownies
quarter teaspoon of bicarbonate of soda
1 teaspoon vanilla extract
150g chocolate chips, melted
Heart shaped cookie cutter (optional)
For the white chocolate dip (optional)
1 bar white chocolate (225g)
red or pink food colouring
1. Preheat oven to 160 degrees (Gas mark 3)
2. Melt chocolate chips in microwave for a minute, stirring after to see if chips have melted. If not, microwave in increments of 30 seconds until completely melted.
3. In a medium bowl, sift the flour, salt and bicarbonate of soda until combined. Set aside.
4. In a separate bowl, add the eggs, sugar and oil and mix until combined for about 2 minutes. Add the water and the vanilla extract. Add to the dry mixture to the wet mixture and melted chocolate chips and stir for about 3 minutes until combined.
5. Stir in Nutella until well combined. Add ½ cup of chocolate chips.
6. Pour into a parchment lined, or a greased foil-lined 20cm x 20cm square pan. This will help with taking the brownie dessert whole out of the pan. Bake for 35 minutes.
7.When finished, remove from oven and allow to cool completely in pan on a wire rack.
For dipping brownies into white chocolate:
1. Melt the white chocolate in a microwave safe bowl for 1 minute. Testing the chocolate to see if it is melted enough by swirling with a spoon. If not, microwave in increments of 10 seconds, not passing 30 seconds total.
2. Using a toothpick, add a bit of food colouring on the tip and swirl into the white chocolate.
1.When brownies have cooled, remove the entire dessert from the pan and unto a parchment paper, or a covered surface.
2. Using a heart shaped cookie cutter, cut out heart brownies as close as possible to one another to maximise the amount of heart shaped brownies you can get.
3. Dip half of the brownie into the pink mixture and place on a wire rack to dry.