A customised 2000hp Lamborghini has been caught on camera losing control and crashing into a body of water by the folks at ThatRacingChannel.
The Jumbolair residential aviation community in Ocala, Florida, was hosting the WannaGoFast half-mile drag race event on its runway when the one-of-a-kind hypercar ran off the road.
The driver of the heavily modified Lambo lost control of the vehicle, which was rocking more than four times the horsepower of the standard Gallardo, which retails for about £150,000.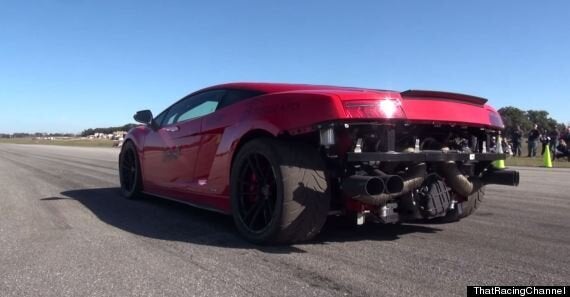 Maybe next time Heffner Performance quadruples the power output of a car they'll think to put an extra spoiler on the back.
"At some point he went over to the left, in between lanes. In there you've got rocks and sand and debris that's kind of blown to the side, and then you've got a car that makes over 2,000 horsepower to the tires, with rocks on the tires, the car just spun.
"These half-mile events, they're not held on racetracks, they're held on runways.
"They don't have debris blowers, they don't have a system to prep the racing surface, they're not even level typically. It's pretty common to have a lot of surface irregularities."
Luckily the driver and all bystanders were unharmed.
Popular in the Community