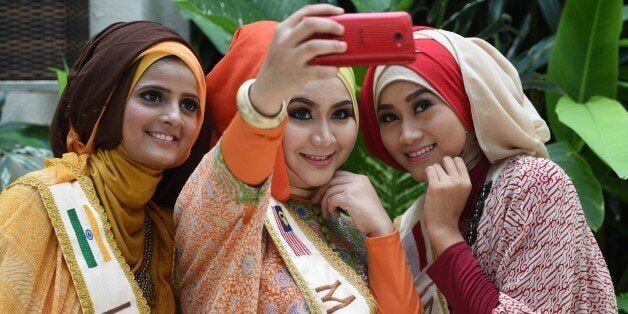 Indonesian women have been posting streams of selfies in definace of a fatwa by prominent Muslim author Felix Siauw.
A Twitter tirade by the renowned cleric claimed taking pictures of yourself is a sin in Islam.
If we take a selfie, sift through and choose our best pose, and then we're awed and impressed by our selves – worryingly, that's called PRIDE

If we take a selfie and upload it on social media, desperately hoping for view, likes, comments or whatever – we've fallen into the OSTENTATIOUS trap

If we take a selfie and we feel cooler and better than others – we've fallen into the worst sin of all, ARROGANCE

These days many Muslim women take selfies without shame. There are usually nine frames in one photo with facial poses that are just – My Goodness – where's the purity in women?
With over 1,000,000 followers, Siauw considers himself a supporter of "the establishment of a sharia-caliphate" and a "servant of Allah".
The cleric's original tweet-fest contained a manifesto of 17 points, carefully outlining his reasons for denouncing selfies as work of the devil.
Needless to say, the hijab-wearing community of Indonesia didn't take too kindly to being told their social media posts could land them in hell.
Women across the country launched a hashtag campaign - #Selfie4Siauw - to show their solidarity against the author's ramblings.