Andy Murray's fiance Kim Sears has the perfect response to all the interest she generated for swearing in support of Murray at his last match.
At Murray's match against Novak Djokovic at the Australian Open Final, Sears donned a t-shirt saying: "Parental Advisory, Explicity Lyrics."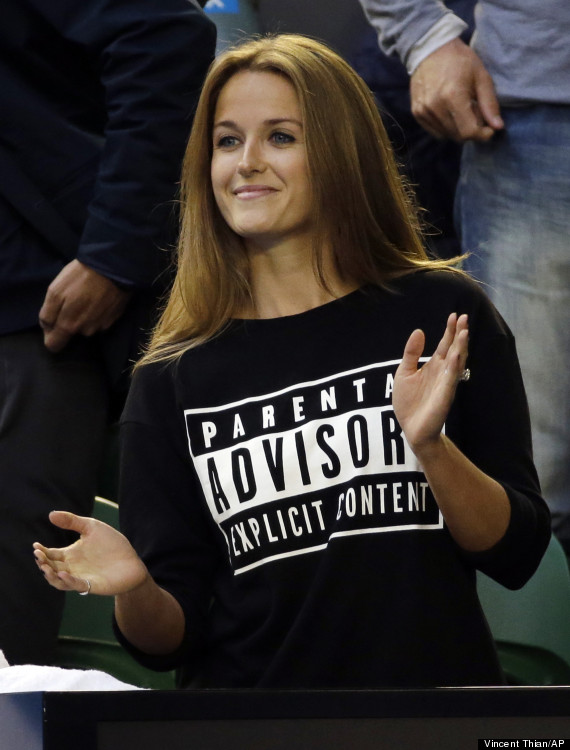 Kim Sears at the final
Sears became the star of Murray's semi-final encounter when he beat Tomas Berdych to reach the final.
A clip of her celebrating her boyfriend winning a crucial point got amateur lip readers trying to figure out what she said.
The appearance of the shirt sent Twitter into meltdown, suggesting Sears could be as big a part of the final as the semi-final.
Kim Sears in her Parental Advisory tshirt has just reinvented passive, smiley WAGdom. 👌

— India Knight (@indiaknight) February 1, 2015
Following her controversial F-bomb outburst, Kim Sears outfit choice today is pure genius! http://t.co/LoyLmMRpgrpic.twitter.com/1T5AxqglSo

— Red Magazine (@RedMagDaily) February 1, 2015
YES KIM SEARS. GO ON GIRL. pic.twitter.com/dPNQRMSF05

— Jessica Elgot (@jessicaelgot) February 1, 2015
We think #KimSears just won the #AustralianOpenpic.twitter.com/DTw6HOioaR

— British Tennis (@BritishTennis) February 1, 2015
As night follows day, people began photoshopping the image to guess at what Sears was thinking.
Kim Sears branded t-shirts will be available after the match #AusOpenFinalpic.twitter.com/gfjdK8Be4r

— General Boles (@GeneralBoles) February 1, 2015
The Kim Sears brand shirt is here..

http://t.co/4bq1PJ5KgRpic.twitter.com/Y4I7FSJz1C

— HuffPostUK Pictures (@HuffPostUKPics) February 1, 2015
...which triggered its own backlash...
February 1, 2015
Twitter was full of people trying to guess what she actually said during the semi-final.
"Fuckin' have it, you Czech fuckin' fuck" - Andy Murray's girlfriend is all kinds of amazing. https://t.co/xmbQszP9aD

— IncrediblyRich (@IncrediblyRich) January 29, 2015
Does Kim Sears say "f**k off you Czech f*****g f**k?" https://t.co/d20YxLKKzp

— Andy Halls (@AndyBizarre) January 29, 2015
Murray, who is no stranger to outbursts on the court, defended his fiancee after the semifinal by saying the match had been tense.
"In the heat of the moment you can say stuff that you regret," he said when asked about Sears' use of some "Angle-Saxon adjectives."
Before the final match began, Murray said he did not expect to win.
"He has a fantastic record here," Murray told the BBC. "He loves the court and the conditions. It would be a big upset if I manage to win."
He added: "I'm not saying it's not a possibility, but it's going to be very, very tough."
His mother Judy, usually present at big matches, is not in his box as she returned to the UK after the semi-final to prepare for Britain's female Fed Cup match with Hungary this week.