Watch episode two of the Feasts on the Street – the online cook-off in which the Huffington Post has teamed up with Amoy to prove that anyone can cook delicious Asian food this Chinese New Year - and learn how to make delicious Cantonese Beef and Black Bean noodles in just 15 minutes.
Feasts On The Streets sees three teams pitted against each other to become street food entrepreneurs, and win the trip of a lifetime to Hong Kong. This week the teams are getting creative in the kitchen with expert advice from 2012 Masterchef winner Shelina Permalloo. Check out the recipe for Cantonese Beef and Black Bean Noodles below and see what you can do with a few fresh ingredients and some help from Amoy.
Cantonese Beef and Black Bean noodles is a Southern Chinese staple. What gives the dish its kick and flavour is Amoy's Black Bean Stir Fry Sauce, made with "dou-chi," fermented black beans made from soya beans that turn black during the fermentation process, after they've been dried and salted.
The delicious flavour is the perfect accompaniment to a balanced stir-fry dinner packed with vegetables, protein and tasty chow mein noodles.
Chow Mein - fried noodles in Cantonese - originated in Southern China and Hong Kong before making its way to the United States with waves of Chinese immigrants. Chow Mein noodles are traditionally fried in oil until they're crispy on the outside and soft in the middle, and Chow Mein has become a popular dish on every Chinese takeaway menu.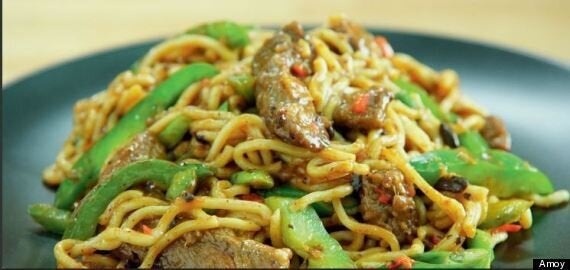 Fun fact: Chow Mein is different the world over. London does plenty of crunchy Cantonese style Chow Mein while the Chow Mein you order in New York will be different to any Chow Mein you taste in California. Chefs on the East Coast of the US prepare the dish in the "Hong Kong style," keeping it fried and crispy, while on the West Coast, Chow Mein tends to be served steamed and soft.
Check out Amoy's easy recipe for Cantonese Beef and Black Bean Noodles below. If you're looking for a health swap, reduce your salt intake with Amoy's Reduced-Salt Soy Sauce, which contains 25% less salt.
Cantonese Beef & Black Bean Noodles
Preparation Time: 5 minutes
1 x 225g British ribeye beef, excess fat trimmed off,
1 tablespoon Amoy Dark Soy Sauce
2 tablespoons sunflower oil (or peanut, rapeseed,
2 cloves garlic, crushed and finely chopped
1 inch fresh root ginger, peeled and finely grated
1 medium red chilli, deseeded and finely chopped
2 medium green peppers, deseeded and sliced into strips
2 spring onions top and tailed, sliced 1cm on an angle
1 tablespoon rice wine or vegetable stock
1 packet of Amoy Black Bean Stir Fry Sauce
2 x 150g packs of Amoy Medium Noodles
1 tablespoon of Amoy Dark Soy Sauce
1. Prepare the vegetables. Slice the beef into strips, season
with the Amoy Dark Soy Sauce, and dust with cornflour.
2. Heat a wok over high heat. Add the sunflower oil and
swirl around to coat the wok. Add the garlic, ginger, and
chilli and stir fry for a few seconds to release their aroma.
Add the beef and let it settle for about 10 seconds before
turning and tossing the beef to brown the edges. As the
beef starts to brown, add 1 tablespoon of rice wine.
3. Add the peppers and stir fry for 1 minute. Add the Amoy Black
Bean Stir Fry Sauce and Amoy Medium Noodles, and toss
together well until all the ingredients are lightly coated in the
sauce. Season with 1 tablespoon of Amoy Dark Soy Sauce,
and garnish with spring onions for a fresh bite. Spoon and
divide onto two plates, serve and eat immediately.
Celebrity chef and Amoy brand ambassador Ching-He Huang's top tip? Add one red bird's eye chilli soaked in Amoy Dark Soy Sauce for a spicier flavour. Watch her put this quick, easy and tasty meal together in minutes in this video from Amoy:
Related