It might seem hard to believe these days, when you can't turn on your TV for clock-ticking crime procedurals, big-budget political thrillers or hard-to-love, impossible-to-ignore anti-heroes, but telly didn't always used to be like this… at least, not until '24' came along, bringing Jack Bauer to the world and changing TV forever.
Over 10 seasons (nine full series, plus the two-hour '24: Redemption' TV movie), Jack has worked against the clock – literally, we could see it in neon, counting down - with every show told in 'real time' (even the slightly truncated tenth outing in London) - to save America, and possibly the world, from presidential assassins, nuclear explosions, corporate corruption and, on his day off, the odd cyber-attack. By the end of Season 8, '24' became the longest-running espionage TV show ever, surpassing 'The Avengers' and 'Mission: Impossible'. And it's had untold influence along the way. Let's take a look…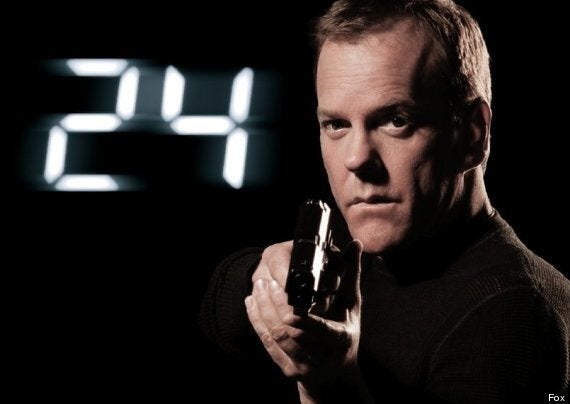 Jack Bauer - larger-than-life representation of what US justice looks like if the walls are taken away
We'll be able to tell our grandchildren that once upon a time we used to tune in our funny-looking sets and book the sofa for an hour every week. Not any more, and '24' can hold itself partly responsible. It was just too flipping addictive. Every week, those clever writers finished on a deeply suspenseful cliff-hanger, leaving us gasping for more… and, for the first time, there was more to be had.
The era of binge viewing had arrived. Staying in was the new going out, as '24' fans looked at one another and tacitly agreed to press the button for another episode and insert another disc out of that distinctive boxset. Three in one sitting was not at all unusual (longer than watching 'The Hobbit' every evening, ridiculous when you think of it), and we were too busy looking at Jack's pulsating clock to notice our own had long since passed midnight.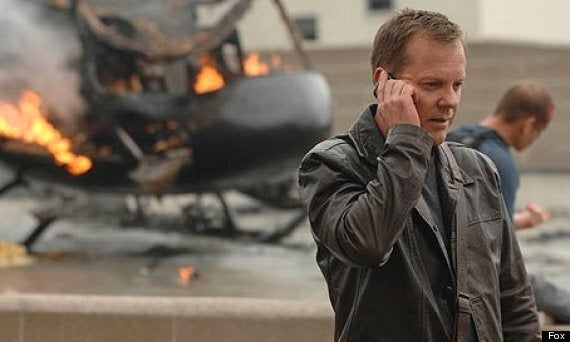 Special effects, crashing helicopters and nuclear explosions all helped create event TV
Watching back-to-back episodes was like being in the grip of a drug addiction, with your dealer standing right there, smiling, with the boxset in his hand. There was no prospect of saving them up, which meant the season finale came round far more quickly than normal. We gathered to talk theories, hold '24' parties and build drinking games around the word 'Dammit'. We would collectively mourn Jack Bauer, until the new season arrived, and we discovered whether he was, in fact, still alive. Which, generally speaking, he turned out to be.
Why did we like it so much? Well, for a start, for the first time, the production values rivalled those of any cinematic offering. Until then, Brits had been happy with a Cortina plunging into the Thames at the end of 'The Sweeney', a car chase down Hanger Lane on 'The Bill' – suddenly, we were watching helicopter crashes, nuclear explosions, buildings collapsing, special effects that made this proper event TV worth watching.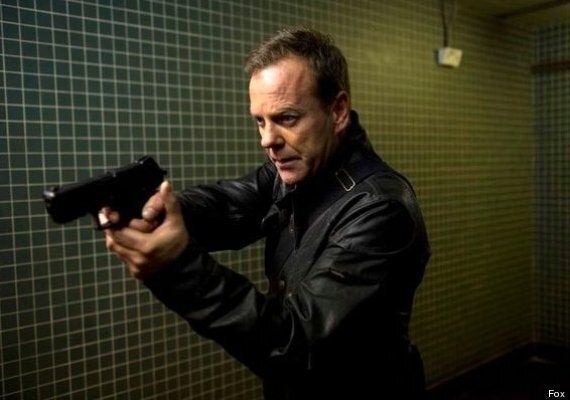 '24' benefitted from the outset with a big screen A-lister in the committed Kiefer Sutherland
Adding to this credibility was a proper big-screen A-lister in Kiefer Sutherland. We're used to it these days, with everyone from Kevin Spacey to Kevin Bacon turning up for telly, but a decade ago, Kiefer was pretty much out there on his own with Martin Sheen in 'The West Wing'. And Martin wasn't stealing a helicopter.
What we knew, too, was that it wasn't just us watching it – '24' was being referred to in the highest chambers in the land. Bill Clinton referred to the show in conversation, and Supreme Court Justice Scalia, no less, even invoked Jack Bauer to defend torturous methods – "he didn't really kill the guy". This, while perhaps a little discomforting, is testament to just how far Bauer's influence had spread - even to the extent that, at one point, in unprecedented fashion, top Pentagon brass reportedly went to the writers at Fox and asked them – true story – to TONE IT DOWN a bit, because soldiers were taking the show's hero as someone to emulate. "Torture's terrible, violence is unthinkable, but hey, if you're Jack Bauer…"
In a side note, lefty Kiefer felt so guilty about all this, that he actually added a video message to an episode, emphasising his true regard for all citizens, and reminding people this was fictional, folks. Again, it seems unthinkable now, but…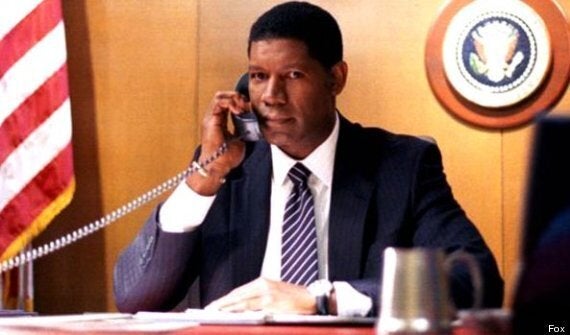 Dennis Haysbert's performance as black president David Palmer has been credited with helping Barack Obama into office
'24' made no actual attempt to be 'real' – how DID Jack get round Los Angeles, a city in a paralysis of constant gridlock, quite so quickly? – but there were aspects for the less trigger-happy of us to enjoy, too. The show found presidents always trying to engineer wars in the Middle East for oil and resources, something for conspiracy-mongers to mull over. And Jack Bauer once found a senior imam praying by his bedside, the message that not all Muslims were terrorists coming across loud and clear a decade before 'Homeland's Carrie Mathison experienced the same thing. The biggest change, though, was in the Oval Office.
Actor Dennis Haysbert played President David Palmer and he just happened to be black. Yes, we had the authoritative Morgan Freeman on the big screen in films like 'Deep Impact', but here was a character, on Americans' television screens, for an hour a week, for six months, making massive national security decisions, holding military parades and, basically, being presidential. In 2008, 'Daily Show' host Jon Stewart said that a Barack Obama election campaign would mean the "first African American candidate since the first season of 24", and Haysbert later joined pundits in claiming that "the Palmer effect" was partly responsible for paving Obama's path to the Oval Office.
At the centre of it all, though, was Jack Bauer himself – a man who began life as a 'normal' counter-terrorism agent with a wife and child. 10 seasons later, he was a fugitive, gone rogue, and an icon for a certain way of doing things. He was a character for a certain era in modern history, when, as Dick Cheney would have it, the gloves were off, and the end justified the means. That era may have passed now Barack Obama presides over a new one of more pressing accountability, but it found its icon in Jack Bauer as the man you call to commit tasks you know need accomplishing, but can't quite face doing yourself.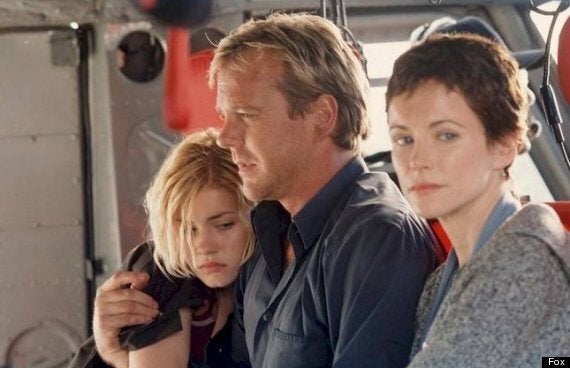 Jack Bauer started out as a conventional CTU agent, a dedicated family man, but things were to change
How did he get this way? We never really found out. We saw him experience a tragedy in the very first series, which shaped many of his later decisions but, let's face it, he'd been pretty capable of brutality before that, and we only ever really got a few tantalising hints as to how he turned into this rational figure, this larger-than-life representation of what national justice looks like if the walls and controls are taken away.
Perhaps that earlier story will one day be told – in another series, a spin-off prequel or, who knows, on the big screen. Until then, we have those '24' boxes on the shelf, for when we're in the mood for another outlandish adventure with Jack Bauer - but only when there's not an early morning meeting to be sharp for. Oh go on, then, just one more…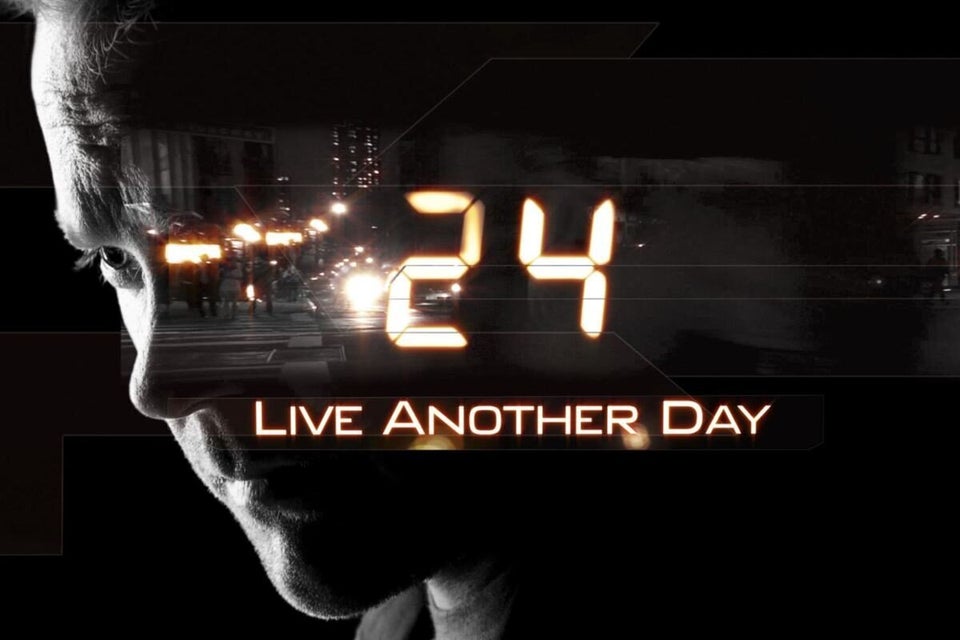 Jack Bauer in 24