The good news was we got to sit down With Douglas Booth yesterday - the not entirely un-handsome star of 'The Riot Club', 'Great Expectations' and now 'Jupiter Ascending'.
The bad news was we were only allowed FIVE minutes - count 'em - with Douglas, which meant we couldn't entirely go into the complicated sub-layers of the Wachowaskis' latest mind-boggling, unearthly, sci-fi offering, in which he stars alongside Mila Kunis, Channing Tatum, Sean Bean and man of the hour Eddie Redmayne.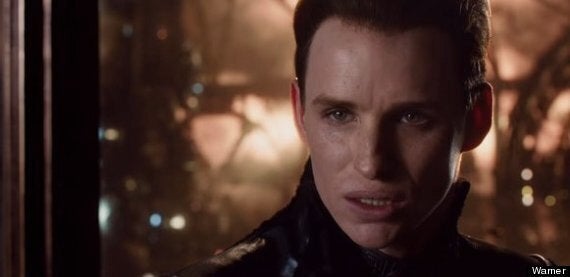 Eddie Redmayne battles for the universe and cheekbone supremacy with Douglas Booth in 'Jupiter Ascending'
However, we decided to embrace the brevity of the occasion, and subject Douglas to a short but sweet Q&A session, in which some strange truths emerged, as we invited him to give the very first answer he thought of... who DOES have better cheekbones, sir, you or Eddie? And can that REALLY your favourite rom-com? As you will be able to tell, he was a little bit thrown by some of the questions, but very, very game...
Watch him in action in our very occasional '15 questions in 5 minutes' series, which stars Douglas Booth above
In 'Jupiter Ascending', Douglas stars as Titus, one of three squabbling Abrasax siblings, living in some far-off place, who have inherited the universe on the death of their mother. There's a bit of unruly competition between the three - Tuppence Middleton as his cunning sis Kalique, and Eddie Redmayne wailing with entitlement as his brother Balem.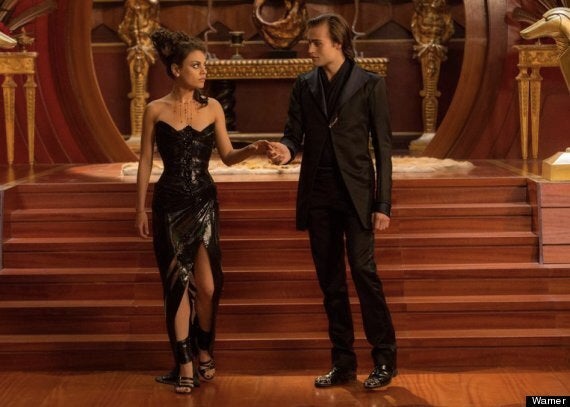 Titus courts Jupiter Jones as part of his cunning plan
However, all their plans are thrown into chaos, when it turns out there's someone down on Earth in the form of Jupiter Jones, played by Mila Kunis. She's currently cleaning toilets, but it seems she may have a claim to the biggest throne of all...
'Jupiter Ascending' is in UK cinemas from today 6 February. Watch the trailer below...